Posted on
Fri, Aug 16, 2013 : 5:57 a.m.
SEMCOG, Ypsilanti to showcase commuter rail cars in Depot Town prior to Heritage Festival
By Tom Perkins
For the first time in recent memory, a train will stop in Ypsilanti's Depot Town and potential passengers will be able to climb aboard.
This Friday, at the Ypsilanti Freighthouse, area residents will have a chance to view the cars planned to be part of a commuter train service that will stop in Depot Town as part of the proposed Ann Arbor-to-Detroit rail service.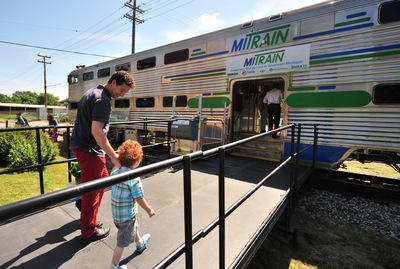 Ryan J. Stanton | AnnArbor.com
The line would run from Ann Arbor to Ypsilanti
, Metro Airport, Dearborn and Detroit, where it would link with the new Woodward Line.
Friday's MiTrain press conference will feature speakers including SEMCOG Executive Director Paul Tait, Ypsilanti Mayor Paul Schreiber, Eastern Michigan University President Susan Martin and Debbie Locke of the Ypsilanti Visitors and Convention Bureau.
After remarks, visitors can take a look inside the refurbished cars that will be part of the line.
"People can get on board and take a look around, sit in the seats and get a feel for it," Tait said. "There will be a platform that will allow people to climb on board and see what they'll be riding in the not-too-distant future."
Tait said the Ann Arbor-to-Detroit commuter rail, which has been in the works for several years, is moving forward despite slower-than-expected progress.
But SEMCOG and the Michigan Department of Transportation are now working on a multi-million dollar effort to upgrade the tracks between Ann Arbor and Detroit to reduce travel time and improve the ability of passenger and freight trains to share the tracks.
That effort will take several years, and Tait said SEMCOG is simultaneously working to secure more funding for the estimated $10 million in annual operating costs.
The cars cost about $300,000 each to renovate, and Tait said he is pleased with the results.
"The refurbished cars really were cost effective compared to buying new cars," Tait said. "And they are really first class. You would never guess they are old cars. We want people to stop in and take a look at them"
Plans are also in the works for special event trains that will shuttle riders between Detroit and Ann Arbor for events like the Thanksgiving Day Parade, the outdoor hockey game at the University of Michigan on New Year's Day or to Greenfield Village.
"We want to try to generate some buzz about it," Tait said.
The MiTrain press conference will be held as this year's Heritage Festival gets underway for the weekend.
"The train stop in Ypsilanti is going to happen in the future, and this is a way to not only look back on heritage of Ypsilanti, but look forward on what's going to happen," Mayor Schreiber said.
Already Ypsilanti has design plans for a platform that would connect to the Ypsilanti Frieghthouse. City planners are also considering the impact of increased development pressure a train stop in Depot Town will bring.
The event starts at 1:45 p.m. on Friday at the Ypsilanti Freighthouse.
Tom Perkins is a freelance reporter. Contact the AnnArbor.com news desk at news@annarbor.com.