Posted on
Thu, Feb 23, 2012 : 6:20 p.m.
Sen. Carl Levin speech introduces Jewish Studies Program at Eastern Michigan University
By Kellie Woodhouse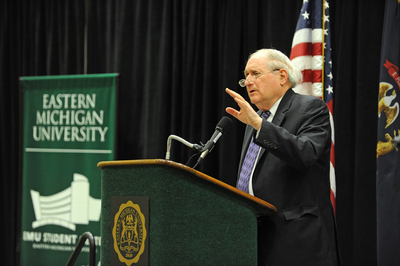 Photo courtesy of EMU
Diversity. That's the benefit of studying Jewish culture and history, U.S. Sen. Carl Levin said Thursday at Eastern Michigan University.
"The great strength of this country, as strong as we all militarily, is that strength of diversity," said Levin, D-Michigan. "Any course which teaches folks about other people ... is helpful to strengthening our diversity."
Levin spoke at EMU to introduce the school's new Jewish Studies Program, which includes a Jewish studies minor. The new minor is one of three courses of study at EMU that focuses on select people groups. The university also has African-American studies and women's studies programs.
Levin, a Detroit native, reflected on Jewish community and social justice before a crowd of about 150, encouraging EMU to embrace those qualities in its new program.
The program offers courses in Jewish art, history, literature, politics and language, as well as a lecture series and a travel-study course focused on the Holocaust.
EMU Hillel Executive Director Clara Silver said a Jewish studies program like the one Eastern established is uncommon among similarly positioned public universities.
Silver said universities are slowly moving toward programs that study Jewish and other ethnic cultures in an effort to embrace diversity and offer their students a wide range of experiences.
"There are many students who come here who've never even left the State of Michigan," she said.
Washtenaw Community College student Beni Henig, who has taken courses at EMU, said that's one of the benefits of the university's new offering.
"You go day to day in your life not really interacting with anyone new at all or really knowing their history and end up being less diverse," he said. "The deal with the Jewish Studies Program is it doesn't matter if you're Jewish or not. You have exposure."
Program director Marty Shichtman estimates that about one quarter of the roughly 100 people in a Holocaust class he teaches are Jewish.
"Students are interested," he offered. "They're really interested in Judea culture."
Levin, during his speech, noted that a strong "sense of community" has "marked" the Jewish culture. It's an understanding of that community, Levin said, that can infuse interest in social justice and create a culture of giving.
"You'll find a great activity —way out of proportion to our numbers— of Jews in the civil rights movement," Levin said, calling it "no coincidence."
"That comes down through the ages as part of our Jewish experience," he said, adding that the activism is a "product of centuries of discrimination and bigotry" that Jews faced historically.
Shichtman said the new minor equips students with a knowledge base helpful for careers in non-profits, anti-poverty organizations and think tanks and education. Thus far, Shichtman said students have shown a high level of interest Jewish studies courses. More than 100 students are enrolled in his Holocaust course.
"It's hard to predict how much traction the minor will have. What I do know is that the courses will have traction," he said. Whatever the case, Shichtman already has one student on board. "I just spoke to one student here who said 'I'm your first."
Kellie Woodhouse covers higher education for AnnArbor.com. Reach her at kelliewoodhouse@annarbor.com or 734-623-4602 and follow her on twitter.