Posted on
Wed, Aug 21, 2013 : 5:54 a.m.
Shape Ypsi to present new Ypsilanti master plan Wednesday
By Tom Perkins
Ypsilanti residents will have a first glimpse of a master plan draft that officials say will help guide the city through major and minor changes over the next several decades.
After months of taking input from residents, the business community and other city stakeholders, planners for Shape Ypsi will present the new master plan on Wednesday at a special joint meeting with the Ypsilanti Planning Commission and Ypsilanti City Council.
Shape Ypsi will next meet with various groups like the Ypsilanti Downtown Development Authority, Eastern Michigan University and others in the coming months before making a final edit to the document and putting it before city council for adoption sometime in October.
The public is encouraged to attend the meeting at 7 p.m. at city hall and provide feedback.
"We have had a lot of real good community input and we've reached out to our stakeholders. But you never know who you hit and missed, and the more voices we hear, the stronger the vision," said City Planner Teresa Gillotti. Among the ideas in the master plan are changing most one-way roads into two-way roads and considering road diets. That includes developing strategies for improving the Cross Street and Washtenaw Avenue intersection and Huron Street between Harriet Street and Interstate 94.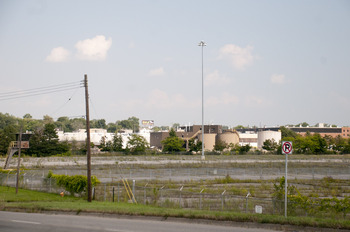 Tom Perkins | For AnnArbor.com
Shape Ypsi is hoping to help stimulate development along Harriet Street that would serve neighborhoods on the city's southside, which is lacking a strong commercial corridor despite dense, adjacent residential areas.
Plans also call for ways to encourage redevelopment of old industrial sites like the former Visteon plant and Water Street.
Avenues for implementation of the improvements are laid out and include either capital projects, like changing the roads, or zoning changes.
Gillotti said the revision also includes a set of "guiding values" that staff, elected officials and planners in the future can look to when making major decisions about Ypsilanti. The values sum up the kind of community Ypsilanti sees itself as and strives to be.
For example, Shape Ypsi lists safety, and cultural and economic diversity as important values. It notes that the city supports sustainable approaches to functioning; the city sees itself as friendly to business, especially creative and "green businesses"; and the city strives to offer a complete transportation system with options for pedestrians, bicyclists, motorists and those utilizing public transportation.
The current master plan was created in 1998 and several minor revisions have been made since then, but Gillotti said the updated version is more geared toward a city that has lost its manufacturing base and experienced a change in its housing stock.
The guiding values give planners something on which to base their decisions in the future if the master plan is no longer as relevant as it is now.
"This is the document that council and planning commissioners and staff will look to when making decisions. It's laying out the direction of the future of the city, and it's supposed to be the community vision for the future," Gillotti said. "People should come out to see where it's headed let us know where they want Ypsilanti to go."