Posted on
Sun, Nov 25, 2012 : 5:59 a.m.
Sheriff's Department focuses on catching drunk and drugged drivers in Ypsilanti Township
By Tom Perkins
On August 27, a pedestrian was struck and killed crossing South Harris Road near Share Avenue in Ypsilanti Township.
Right around the same time, another pedestrian was killed when struck by a vehicle near Ford Boulevard and Russell Street.
In both cases, the vehicles' drivers were found to be intoxicated and were arrested on charges of driving under the influence. The Washtenaw County Prosecutor's Office is reviewing the cases and awaiting toxicology results from the Michigan State Police crime lab. More serious charges could follow for those drivers.
The fatalities underscore the serious issue of drunk driving in Ypsilanti Township, and elected officials there have raised concerns over it.
Since September, the Washtenaw County Sherriff's Department has responded by stepping up drunk driving enforcement and now has three deputies who are Michigan State Police-certified drug recognition experts. That's more than any other state agency except the State Police, and it means the Sheriff's Department is looking not only for drunk drivers, but for drivers under the influence of drugs.
While that operation has been underway since August, the Sheriff's Department also received grant money specifically to pay deputies overtime to work DUI enforcement in Ypsilanti Township throughout the holidays, which means the department is on especially high alert.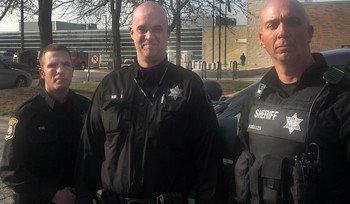 Photo Courtesy of the Washtenaw County Sheriff's Department
"What we want to emphasize is that if you're driving in Ypsilanti Township and you're drinking or on drugs, there's going to be a high likelihood that you're going to be stopped and arrested," said Lt. Jim Anuszkiewicz.
Statistics already show a sharp increase in the number of DUI arrests since the program was implemented.
From January to August 2012, there were 24 drunk driving arrests. From September 1 to October 29, there were 30 DUI arrests. Anuszkiewicz said most arrests come between 8 p.m. and 3 a.m.
"We have been concentrating on it more and we've been training all of our staff to be aware of drunk drivers," Anuszkiewicz said. "There were some serious accidents over the summer and fatalities over the last few months, and this will help."
Deputy Doug McMullen is one of the three deputies trained in drug recognition. He said when another deputy recognizes that a motorist's behavior is impaired but can't determine why, he gets called in.
McMullen conducts a psycho-physical evaluation that includes basic motor skills tests, an interview, pulse measurements, body temperature measurement, blood pressure and other tests.
"The body responds predictably to certain kind of drugs," McMullen explained.
Marijuana is the most common drug deputies find, McMullen said, but they also find drivers under the influence of cocaine, heroin and prescription drugs. Prescription drugs have been a big focus because of their increased popularity and their exaggerated effects when combined with alcohol.
McMullen and the two other Sheriff's Department deputies spent two weeks training in-house for the program at the Michigan State Police headquarters. They then completed field training in Arizona.
"What we're proud of in Ypsilanti Township is that we have three specific deputies trained in drug recognition tactics that they can use for OUILs and narcotics. There are only a select few people in the state," Anuszkiewicz said. "Sometimes it takes a special kind of training to detect someone under the influence of narcotics."