Posted on
Sat, May 11, 2013 : 3:09 p.m.
Sidetrack in Ypsilanti set to reopen for dinner after sprinklers drench kitchen
By Cindy Heflin
The Sidetrack Bar and Grill was expecting to reopen about 5 or 5:30 p.m. Saturday after the sprinkler system went off in the kitchen, forcing the restaurant to close for several hours as staff and others hustled to clean up the mess.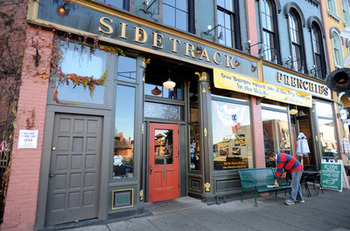 "Within a half hour we had everything under control," said owner Linda French. She said the response from firefighters, the health department and professional cleanup workers called in was amazing.
French and her staff had opened the business at 56 E. Cross St. early hoping to capitalize on a big crowd after The Color Run in Ypsilanti Saturday. When the sprinklers went off about 9:30 a.m., they had to close after serving only a few people. But both French and her daughter, Jessica, said they were grateful for the response and just happy they'll be able to open in time for the evening rush.
Ypsilanti Fire Lt. Mike Kouba said a belt broke in the ventilation hood in the restaurant and activated the sprinkler system at 9:36 a.m.
The Fire Department response was complicated by the day's events, Kouba said. "We had to get our tower down to river street in the middle of The Color Run," he said.
Despite that, the response was prompt, said Jessica French. She couldn't say enough about messages of well wishes she got from people who stopped by the restaurant and about the Fire Department response.
"The Ypsilanti community is an amazing place and I was so impressed with how quickly the Fire Department got here."
She also praised her mom and the way she helped everyone stay organized as they worked to get the restaurant ready for reopening.
"I definitely learned more in one day here than I could have in a long time," she said.