Posted on
Thu, Apr 18, 2013 : 8:59 a.m.
Sketch of suspect in sexual assault released
By Cindy Heflin
Washtenaw County sheriff's deputies have released a composite sketch of one of two suspects sought in the sexual assault of a woman Monday in Ypsilanti Township.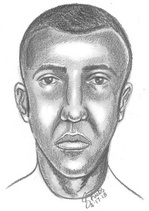 Deputies said the 21-year-old woman was walking between 5 and 5:30 a.m. Monday in the area of Cary Drive and Textile Road in Ypsilanti Township when two men approached her and sexually assaulted her.
The first suspect, depicted in the accompanying composite, is described as a black man with a dark complexion in his 20s. He is taller than 6 feet and has a thin build.
The second suspect has a light complexion and is about 5 feet 6 inches tall with a medium build, deputies said. He has a mole or birth mark on his left cheek.
Deputies released no details about the assault.
Deputies also are trying to speak with a man who was walking his dog in the area just before the sexual assault. Washtenaw County Sheriff's Sgt. Geoffrey Fox said the man spoke with the victim immediately before the incident. The man is not a suspect.
Anyone with information about the assault or who was in this area around the time of the assault is asked to call the Washtenaw County Sheriff's Office confidential tip line at 734-973-7711, or Crime Stoppers anonymous tip line at 1-800-SPEAKUP (1-800-773-2587).