Posted on
Fri, Jul 13, 2012 : 1:11 p.m.
'Stark realities and pockets of hope': Ypsilanti-Willow Run merger talks move into data analysis phase
By Danielle Arndt
The Willow Run-Ypsilanti Collaboration and Communication Task Force has moved on to its next stage of merger discussions: data portraits.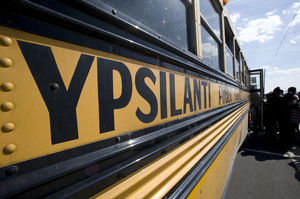 AnnArbor.com file photo
Two upcoming public information sessions will paint a picture of the Ypsilanti community's history, the founding of both school districts, as well as share
Student performance and enrollment data;
Test scores;
Post-high school trends;
Financial trends; and
A list of community assets.
Washtenaw Intermediate School District Superintendent Scott Menzel said the area's "rich history" has been a point of pride at the previous public forums, so school officials tried to give a detailed historical perspective.
The data reveal "some surprises along with stark realities and pockets of hope, all important background information as the possibilities of a unified school district is explored," said Emma Jackson, communications director for the WISD, in a statement.
Data portraits sessions are scheduled for Saturday from 10 a.m. to noon at the Superior Township offices, 3040 N. Prospect Rd., and Monday from 6 to 8 p.m. at the Ypsilanti Township Civic Center, 7200 S. Huron River Dr.
The first session took place Wednesday. School officials said the turnout was fair.
Download a copy of the preliminary data report here or visit the new task force website, www.together4ss.org, for more information about the consolidation effort.
An updated data portrait will be uploaded to the site Tuesday following the last session. Naomi Norman, director of assessment, planning and research for the WISD, said the public gave some very good suggestions during the first session and she will be adding some additional data to the report as a result.
A complete schedule of upcoming meetings can be found here.
Staff reporter Danielle Arndt covers K-12 education for AnnArbor.com. Follow her on Twitter @DanielleArndt or email her at daniellearndt@annarbor.com.