Posted on
Thu, Apr 11, 2013 : 5:10 p.m.
Prison privatization focus of statewide forum Saturday at Eastern Michigan University
By Kody Klein
Several Michigan legislators will discuss issues in the state's prison system at a statewide forum Saturday at Eastern Michigan University.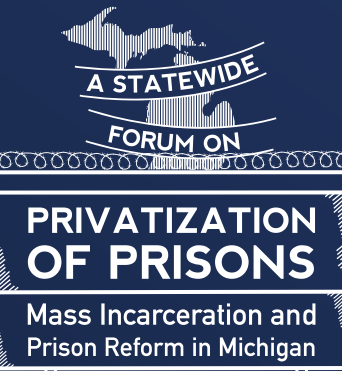 Courtesy of Eastern Michigan University Diversity and Community Involvement
State Sen.
Rebekah Warren
and state representatives
Jeff Irwin
,
David Rutledge
,
Harvey Santana
and
Fred Durhal
will discuss prison privatization, mass incarceration and prison reform along with leaders from several public organizations, including
Mark Fancher
, racial justice staff attorney for the
American Civil Liberties Union
.
The conference is from 8:30 a.m. to 3 p.m. at the EMU Student Center. Reggie Barnes, director for EMU Diversity and Community Involvement, said admission is free, but asked attendants to register beforehand to ensure there's enough food, which he said will be provided by Einstein Bros. Bagels.
The conference's organizers, Roderick Casey and Lefiest Galimore, two local activists, said they wanted to unite people against Public Act 599, a law passed in January that allows private organizations to bid for state contracts for correctional services.
"This is not only a threat to humanity, it's a threat to the integrity of our political and our judicial systems," Casey said.
The legislation was passed as part of an effort to reduce state corrections expenses. According to the 2010 Annual Report by the Michigan Department of Corrections, the corrections budget for that year was $1.93 billion.
"The legislature has been pushing for this a long time," said Russ Marlan, public information officer for the MDOC. "We know what our per-day-per-prisoner costs are but what we don't know is what those private companies could deliver those same services for. That's what those legislators want to see. They want to see competition."
But people critical of the legislation fear that a private company would have incentive to maximize its prison populations and a disincentive to rehabilitate inmates for successful assimilation into free society.
"There's no incentive for private corporations to rehabilitate," Galimore said. "That's how they make their money."
Marlin said the state would pay private companies a per-prisoner-per-day rate for their correctional services. This means that a private prison's revenue would be tied to its population.
USA Today reported last year that Corrections Corporations of America sent a $250 million proposal to 48 states, offering to buy state prisons if the states could guarantee a 90 percent occupancy rate for 20 years.
Casey and Galimore also expressed concern for Michigan's Violent Offense-Fourth Felony law. Passed as Public Act 319 last October, the law requires 25-year sentences for anyone charged with a violent felony who has three prior felony convictions.
"The prison system is set up to feed on itself," Galimore said. "I can't believe our legislators would pass those kinds of bills."
Casey called these policies a modern form of Black Codes, stressing that they strengthen the disproportionate incarceration and recidivism of black men.
The MDOC 2011 Statistical Report said that 23,974 of the 42,904 inmates in Michigan prisons were "non-white." Marlan said black inmates make up 95 percent of the "non-white" prison population. That means there were roughly 22,775 black inmates in Michigan prisons in 2011, 53 percent of the total prison population.
According to census information available at the state's website, 14 percent of Michigan's population was black in 2010.
"It's a form of modern slavery," Barnes said. "Guys go into prison. They get paid, 30, 40, 50 cents a day to do manual labor for the entire day. It's almost like indentured servitude."
Marlan confirmed that some Michigan inmates are employed, making license plates, officer and prisoner uniforms, road signs, habitat houses, and other products.
"It's primarily educational and vocational employment and skills training," Marlan said. "You not only teach them a skill, whether that be some sort of manufacturing or service skill. But you also teach them the soft skills of getting up and going to work, listening to supervisors, working with co-workers. That will be beneficial to them when they get out of prison."
The inmates are paid rates ranging from $0.74 per hour to $3.50 per day. Marlan said the reduced wages help mitigate the costs of housing the inmates and providing them with food, clothing and health care.
"All of that stuff is free of charge to them," he said.
Marlan was going to speak at the conference but had to pull out, because a bid the MDOC issued a month ago in response to PA 599 is still open and could be legally compromised by his participation. The bid is a request for proposals from companies to manage around 900 custody beds for Level IV inmates, which are above minimum security but just below maximum security.
According to the MDOC 2010 Annual Report, the average cost of annual incarceration for a Level IV inmate is $37,675. Proposals from private companies must present at least 10 percent savings to the state in order to be accepted. In other words, a private company would have to be able to house the inmates at an annual per person cost to the state less than or equal to $33,907.
Despite the demand for lower costs, Marlan said any proposal accepted by the MDOC would have to include the same level of educational and rehabilitative services offered by the state.
"It would have to provide all of the same services that we provide our Level IV prisoners," he said.
Marlan said there's nothing in the bid asking companies to use prisoners for labor.
"I doubt that they would because there's some federal laws that go into prisoner labor—especially if you sell anything across the state line," he said.
The most obvious company that would be interested in the bid is the GEO Group, which already has a facility in Baldwin. Marlan said other companies have been offered use of MDOC's correctional facility in Standish, which has been closed since 2009.
Kody Klein is an intern for AnnArbor.com. Reach him at kklein@mlive.com