Posted on
Thu, Jul 12, 2012 : 7:23 a.m.
Story of killer Christian Longo featured on ABC-TV's 'Final Witness'
By Paula Gardner
The story of an Ypsilanti man who moved his family to Oregon and then killed them before leading federal officials on a manhunt was dramatized Wednesday night on the ABC-TV show "Final Witness."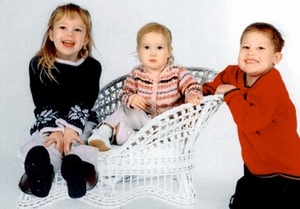 The show detailed the 2001 case that horrified the nation.
The bodies of Christian Longo's wife, MaryJane Longo, 34, and their children Zachery, 4, Sadie, 3, and Madison, 2, were found in a river near Waldport, Ore.
The killings exposed Longo's series of thefts and lies, prosecutors charged during his trial. They started when the family lived in Ypsilanti, continuing after their move west.
Longo is on death row for the crimes. He was convicted after fleeing to Mexico and landing on the FBI's "Most Wanted."
The "Final Witness" episode told the story through MaryJane Longo's eyes, in an episode called "Fatal Devotion."
Read more background on the Longo family, including Christian's crimes.