Posted on
Wed, Feb 20, 2013 : 5:58 a.m.
Summer closure of Ford Boulevard bridge will require 7-mile detour in Ypsilanti Township
By Tom Perkins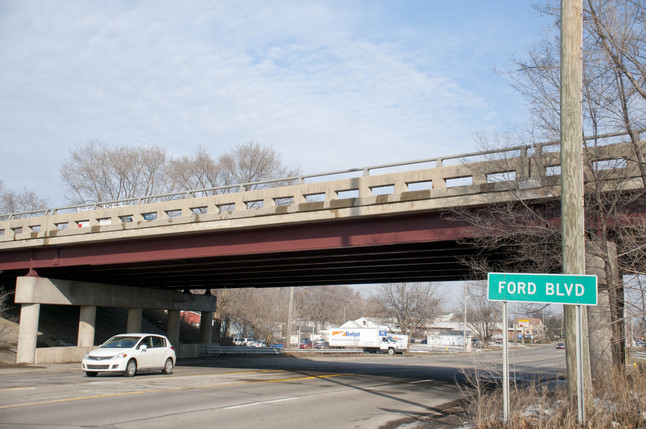 Ypsilanti Township residents can plan for a 7-mile-detour this summer as the Washtenaw County Road Commission rebuilds a main connection between the township's north and south ends.
The 180-foot-long, 70-year-old Ford Boulevard bridge that spans East Michigan Avenue is deteriorating and in need of a total rebuild, a road commission official said.
Depending on when bids are awarded, construction could begin as soon as April, though the complete closure may not happen right away. Kelly Jones, a bridge engineer with the Road Commission, said work would likely be completed sometime in August.
"The whole bridge, overall, is old and deteriorating," Jones said.
Motorists headed southbound on North Ford Boulevard across the bridge to South Ford Boulevard will instead be routed eastbound on Holmes Road. The detour then runs east along East Michigan Avenue.
The detour next cuts back west along the U.S. 12 connector. Motorists are then directed to exit at the Ecorse Road exit, which runs into South Ford Blvd.
Around 12,000 vehicles cross the bridge daily. East Michigan Avenue will not be impacted or see any closures.
Jones said a seven-mile detour seems long but is actually short for a bridge rebuild. The bridge crosses over a high-speed railroad line running next to East Michigan Avenue. That rail line is the one of the reasons there are so few places to cross from the north end of the township into the south end.
The Road Commission also can't demolish the bridge and build an at-grade intersection because of safety concerns with the rail lines, Jones said.
"The railroad companies would never allow it since it's a high speed line," she said.
Another concern created by the project is its impact on emergency responders. The Ypsilanti Township Fire Department's main station sits just south of the bridge, and Fire Chief Eric Copeland said he expects a two to three minute delay in response time to the north end of the township while the bridge is out.
But he said the Superior Township Fire Department, which borders the township to the north, will provide automatic assistance in the event of a structure fire.
"This is a measure that will help us get better coverage," Copeland said.
Copeland also said Huron Valley Ambulance will position one of its units north of the bridge during construction to keep down response times to medical emergencies.