Posted on
Fri, Jan 25, 2013 : 5:56 a.m.
Superintendents honored with Courageous Leadership Award for merging school districts
By Danielle Arndt
Ypsilanti Superintendent Dedrick Martin and Willow Run Superintendent Laura Lisiscki were honored Wednesday before their peers for their work on behalf of their merging school districts.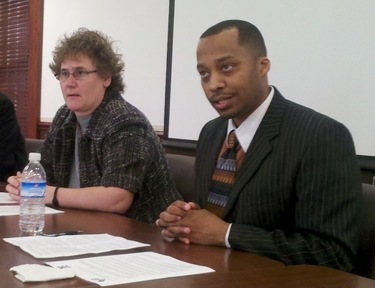 Danielle Arndt | AnnArbor.com file photo
The
Michigan Association of School Administrators
gave them a
Courageous Leadership Award
for their selflessness and courage in pushing forward with consolidating the two financially struggling districts.
Lisiscki said she and Martin were asked by MASA's executive director a couple weeks ago if they planned to attend the conference, which is Wednesday through Friday in Kalamazoo, because the MASA leadership would like to honor them.
Lisiscki was surprised by the gesture, she said.
"Honestly, I was just really humbled by it. To me personally, this is something we are doing because we know it is right for our children. So we just forged on into it, and didn't give it a second thought," Lisiscki said.
She and Martin were presented with a copy of late President John F. Kennedy's book, "Profiles in Courage."
Voters approved consolidating the Ypsilanti and Willow Run school districts in the November general election. The merger is expected to help the Ypsilanti community wipe the slate clean, get its schools out of debt and provide improved academic options for students.
Lisiscki and Martin said at the start of the process last April, they saw the merger as the only way to avoid crippling cuts and an emergency manager situation in their individual school systems.
The new district will be official on July 1.
Danielle Arndt covers K-12 education for AnnArbor.com. Follow her on Twitter @DanielleArndt or email her at daniellearndt@annarbor.com.