Posted on
Fri, Oct 5, 2012 : 5:58 a.m.
Superior Township frustrated with new library delay as Ypsilanti District Library revenues drop
By Tom Perkins
Tom Perkins | For AnnArbor.com
Editor's note: This article has been edited to note that Superior Township bought land with the intention of building a community center and possibly adding a library. Mirada Jenkins' name has been corrected.
Superior Township resident Mirada Jenkins describes herself as a "library person." She and her daughter visit the Ypsilanti Township branch of athe Ypsilanti District Library three times a week to use the computers, check out books, participate in reading groups or just relax in a space they've come to love.
"The library is part of our personal life," she said.
But Jenkins says she doesn't go to the library near her home because the Superior Township building is cramped, the wait to get on the computers is long, the time limit for working on the computers is shorter than other YDL branches and the hours of operation are shorter.
"We just do not use that facility because in the amount of time that it takes to do anything over there, we can just drive across town to one of the other branches. If my daughter has to do a paper or anything, we might as well go across town," Jenkins said.
Township officials regularly hear similar complaints from other residents and say it is worse for many residents who use the Harris Road and MacArthur Boulevard branch because they don't have cars and there isn't a bus route to get them to the other branches.
But declining revenue is putting plans for a new Superior Township library on hold — at least for now.
The YDL has $2 million in its fund balance and it will have nothing left in 2017 if it doesn't make changes now. YDL director Jill Morey said the YDL has instituted a hiring freeze and is in the process of deciding other cost-saving measures as it prepares a new budget.
Of the $2 million in its fund balance, $1.6 million was designated for a service improvement fund, from which officials expected to draw money to build a 6,000-square-foot building that could expand to a 12,000-square-foot building for Superior Township.
But the economic downturn has severely affected the library's funding despite voters approving a .38-mill tax increase for the library in 2010.
The previous millage generated $4.2 million in 2007, but that figure had dropped to $3.9 million in 2010. The increased millage generated $3.6 million in fiscal year 2012 and is projected to generate $3.5 million next fiscal year.
That has Superior Township officials upset because they contributed $578,000 to be a part of the YDL last year and have contributed $3.8 million through their 1.8874 mill tax since joining the YDL in 2006. They say they aren't getting enough of a return on their investment.
"We deserve a larger facility for our residents and it's very discouraging," said Township Treasurer Brenda McKinney. "We feel that we're not getting our fair share and we don't know where our money is going."
Township officials said they were under the impression the YDL board and leadership were ready to build a new building next summer. Township officials recently purchased a 12-acre parcel of land from the Willow Run School District for $140,000 to build a community center with the possibility of adding a library.
Superior Township Supervisor Bill McFarlane said the YDL was "enthusiastic and ready to build" a new building and planned to do so out of their fund balance.
"We thought the project was moving forward, we were optimistic ... ," McFarlane said. "We called them and said 'We're ready to move on this.' "
But McFarlane said YDL officials presented their financial information that showed they were not ready to build because their fund balance was being used for operating costs and would be depleted by 2017.
"Clearly spending all your reserves on operations until they're gone is not the solution," McFarlane said. "Putting aside the fact that we are ready to build a building in our community, using all their reserves until they are gone is the more important issue."
Jill Morey acknowledged the library is facing the prospect of depleting its fund balance by 2017, but said it is making adjustments to maintain the organization's financial health with a minimal impact on services. She said the YDL Board and staff are eager to build a new facility, but 90 percent of the libraries' funding is tied to millages, which are affected by property values. Those have been dropping in recent years.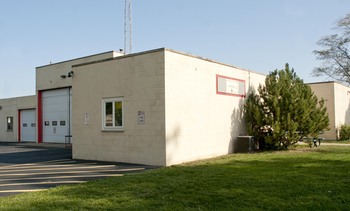 Tom Perkins | For AnnArbor.com
Morey said Superior Township is recovering from the economic downturn faster than the city of Ypsilanti, which still faces falling property revenues. She said projections show Ypsilanti Township's property values flat lining, which she called a positive. But recovery is still slow.
Morey also pointed out that Superior Township residents use the Ypsilanti Township and downtown Ypsilanti facilities. Residents in those municipalities are paying off bonds used to fund the 68,000-square-foot building on Whittaker Road and renovate the aging downtown Ypsilanti Library. Superior Township residents are not.
She said the library board has always planned to build a new library in Superior Township, and it remains a top strategic priority, but it passed a resolution in May to delay the project. Morey also said she sent a letter to McFarlane explaining the situation while underscoring that the YDL still plans to build, and she thought the YDL's intentions were clear.
"Before the economic downturn, the unstated promise was the building would be done, but it became clear that to keep services at a certain level and to ride out the financial storm, it would have to be delayed," Morey said. "It will happen, we're still working with an architect and working with (Superior Township) Parks and Recreation. I can understand their disappointment but it just can't happen right at this minute."
Morey said the Superior Township branch, which costs around $160,000 annually to fund, sees around 23,000 visitors annually. There are 4,557 Superior Township residents with YDL cards. Morey said she believes the building is small for that kind of traffic, but the YDL still provides residents with a valuable service.
"The value of the YDL card is great when you consider everything that you can do with it" she said. "I realize that it's not as great as having 6,000 or 12,000 (square foot) building there, but I think there are many things that residents there can access now. And we will certainly provide the building when the library board can provide the funds in the budget."
Tom Perkins is a freelance reporter for AnnArbor.com.