Posted on
Sat, Mar 30, 2013 : 4:02 p.m.
Superior Township family to travel to D.C. for White House Easter Egg Roll
By Kody Klein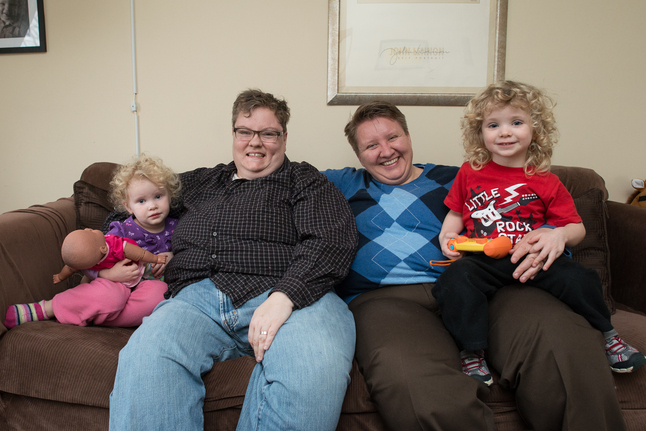 Courtney Sacco I AnnArbor.com
Cristy Cardinal
, who lives in Superior Township with her family, had never heard of the
White House Easter Egg Roll
until she happened upon a
public relations video
featuring 9-year-old
Robbie Novak
, more commonly known as the YouTube sensation
Kid President
,
"After watching it, there was a link to enter the [tickets] lottery," Cardinal said. "I thought, 'Wouldn't that be fun?'"
The White House Easter Egg Roll is a tradition dating back to 1878 when thousands of people gather on the south lawn of the White House to sing, dance, play games, tell stories and roll Easter eggs across the lawn.
Cardinal entered her family into the ticket lottery and a few weeks later, she received an email from the White House inviting her, her partner and their two kids to the 135th Easter Egg Roll on April 1. But she and her partner, Melanie Hagan, were reluctant to celebrate because they couldn't afford a weekend trip to Washington D.C.
So they reached out to their friends and family.
"We did an online fundraiser and in 24 hours had raised $2,000 to pay for our trip," Cardinal said.
That money was enough to cover all of their expenses and even helped compensate for the unpaid time off that Hagan had to request.
"We're overwhelmed with how loved we are," she said.
Cardinal and Hagan left Friday with their three children, 6-year-old Charlotte, and 2-year-old twins Ruby and Milo.
"My older daughter is turning cartwheels with excitement," Cardinal said. "She understands who Barack Obama is and is really excited to meet him. We might not get the chance, but we hope to."
The twins aren't quite old enough to fully understand the trip's significance.
"They're excited to go to 'the big white house,'" she said. "That's what they keep calling it."
Cardinal said they'll be driving all day Friday and Saturday and they plan to go to the National Zoo on Sunday.
On Monday, they'll go to the egg roll, where Cardinal said she and Hagan are especially excited about the high-profile chefs that will be catering the event.
"I'm super excited about the chefs," she said. "We're total food nerds in our house. We hope we get a chance to actually meet them and talk a little bit of food talk—what to do with all of those hard-boiled eggs maybe."
Once the egg roll is over, Cardinal said her family has one last thing to do before heading home to Michigan.
"While we are in that part of the world, we're going to go to Maryland and getting married," she said. "The kids don't know about that yet. We're going to tell them closer to doing it."
Cardinal said the family will return home on Tuesday.
"We're very, very grateful for the people who supported us and made it possible for us to do this," she said.