Posted on
Fri, Feb 22, 2013 : 3:32 p.m.
Suspect car identified in surveillance footage of car dealership theft
By Kody Klein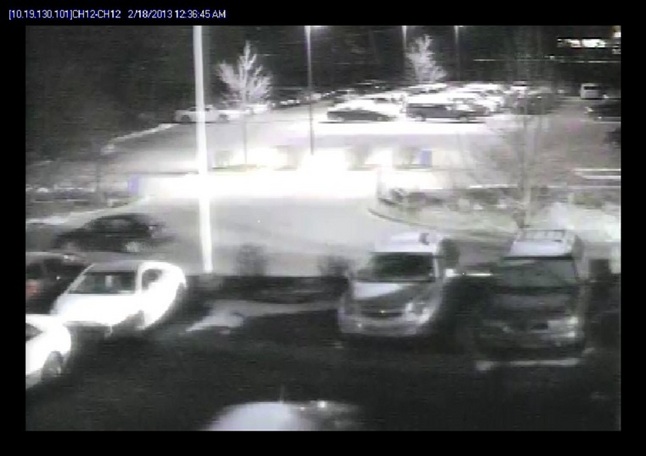 Courtesy of Rich Bayer
Editor's note: This article has been updated with information from Steve Demers, general manager of Cueter Chrysler Jeep Dodge.
A sedan seen in surveillance footage is believed to be the getaway car for suspects involved in the theft of five navigation radios Wednesday morning from Cueter Chrysler Jeep Dodge, 2448 Washtenaw Ave, in Ypsilanti Township.
The video, released by Cueter's service manager, Richard Bayer, is only a snippet of the night's surveillance footage. Steve Demers, Cueter's general manager, said the cameras captured the getaway car and images of the suspects.
Bayer said suspects in the car were scoping out the dealership around midnight. Two suspects began breaking into the vans about 12:15 a.m. while their accomplice stood lookout by the road.
The thieves broke into eight vans and stole five MyGIG Navigation Radios. They managed to elude a security guard who patrols the lot.
Bayer said the radios are basically on-board computers, each one worth about $4,000 when stolen with the internal core charge. Despite their cost, they are not usable in any other vehicle, Cueter said.
Including damages to the vans, the theft will set the dealership back more than $20,000.
"It's probably going to be about $25,000 all in all," he said.
The sheriff's office continues to investigate this incident.
Kody Klein can be reached at kklein@mlive.com.