Posted on
Thu, Apr 4, 2013 : 3:55 p.m.
Suspects in Sunday homicide released from jail as investigation continues
By Kyle Feldscher
The two people arrested Sunday night in connection with the death of John Lawrence were released from jail Wednesday evening, officials confirmed.
The man and woman, both 20, were arrested Sunday night and police said they believed they killed Lawrence during a dispute about a lease. Both the man and woman were taken to the Washtenaw County Jail to await arraignment, which was originally scheduled for 1 p.m. Wednesday, according to jail records.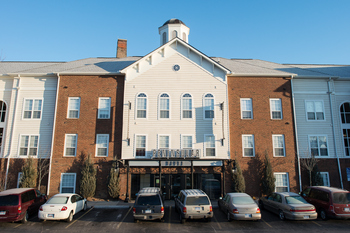 Courtney Sacco | AnnArbor.com
However, that time came and went. Washtenaw County Sheriff's Office Sgt.
Geoffrey Fox
confirmed the man and woman were released from jail at 6 p.m. Wednesday.
Washtenaw County Deputy Chief Assistant Prosecutor Steven Hiller said Thursday the case is still under investigation and there was no timetable on when charges would be filed.
"It'll take as long as it takes to get a complete picture of what happened in this case," Hiller said.
AnnArbor.com is not releasing the names of the man and woman because they have not been formally arraigned on charges.
Lawrence, 46, was killed Sunday at the Peninsular Place apartments in the 900 block of Railroad Street. His daughter, Raven Lawrence, told AnnArbor.com she was arguing with the two suspects regarding the living situation at the apartment. She said the man was living at the apartment without a lease.
The situation became heated and Raven Lawrence called her father to come to the apartment, she said. When he arrived, he gave her his handgun and told her to take it to his car. By the time she came back to the apartment, the door was locked, Raven Lawrence said.
Police were called and, when investigators entered the apartment, John Lawrence was dead.
Raven Lawrence said her father drove to Ypsilanti from his home in Detroit to help her, though officials indicated he was from River Rouge.
Originally, police said he was killed by blunt force trauma to the head, but they've since backed off that statement. The final autopsy and toxicology reports won't be ready for a few weeks, and police have not spoken more about the potential cause of death in the case.
Detective Joe Yuhas was not able to be reached Thursday by AnnArbor.com for comment on the latest developments in the case.
Yuhas told AnnArbor.com the case would be turned over to the Washtenaw County Prosecutor's Office Wednesday morning for potential charges.
Kyle Feldscher covers cops and courts for AnnArbor.com. He can be reached at kylefeldscher@annarbor.com or you can follow him on Twitter.