Posted on
Thu, Apr 25, 2013 : 10:27 a.m.
Suspended EMU basketball player accused of choking girlfriend
By Kyle Feldscher
Suspended Eastern Michigan University basketball player Glenn Bryant faces two criminal charges after he was accused of choking his girlfriend during an argument Monday.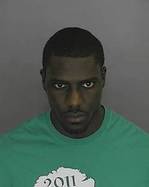 Courtesy of the WCSO
Bryant, 22, was arrested after the 19-year-old woman reported the assault at 2 p.m. Monday in the 900 block of Railroad Street in the Peninsular Place apartments, Ypsilanti Police Detective Sgt. Tom Eberts said Thursday. Bryant was arraigned on a felony charge of assault by strangulation and a misdemeanor charge of aggravated domestic violence, Eberts said.
The 19-year-old woman called police and met investigators at the Peninsular Place manager's office Monday afternoon after the alleged assault. Eberts said the woman told police the argument was about "nothing in particular" and the couple, who had been dating for one year, argues frequently.
"During the argument, the victim claims the suspect choked her," Eberts said.
Bryant has bonded out of the Washtenaw County Jail, records show. There was no information in court records about what bond he received. He's been suspended from the EMU basketball team "until the charges are dropped, dismissed or otherwise resolved," university officials said.
The transfer from Arkansas played in the 2012-13 season for the Eagles, averaging 10.6 points per game. He started 30 of the team's 34 games and averaged 27.4 minutes per game, good for second on the team.
Bryant sat out the 2011-12 season after coming to Eastern in the summer of 2011, per NCAA transfer policy.
Eberts said police met with the victim and got her statement before she was transported to a local hospital for treatment.
After the woman was taken to the hospital, officers met with Bryant and arrested him, Eberts said.
Bryant will return to court at 8:30 a.m. May 7 for a preliminary examination, court records show.
Kyle Feldscher covers cops and courts for AnnArbor.com. He can be reached at kylefeldscher@annarbor.com or you can follow him on Twitter.