Posted on
Tue, May 21, 2013 : 12:26 p.m.
Suspended EMU basketball player accused of choking girlfriend has hearing adjourned
By John Counts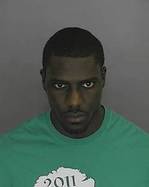 Courtesy of the WCSO
The suspended Eastern Michigan University basketball player accused of choking his girlfriend had his preliminary hearing adjourned Tuesday in 14A-1 District Court because the 19-year-old woman was too ill to appear.
Glenn Bryant, 22, appeared briefly in the courtroom where the prosecution requested and was granted the motion to adjourn the case until next Tuesday.
Bryant is charged with assault by strangulation, a felony, and aggravated domestic violence, a misdemeanor, for allegedly choking the 19-year-old woman last month at an apartment in Ypsilanti's Peninsular Place, in the 900 block of Railroad Street.
The woman told police the argument was about "nothing in particular" and the couple, who had been dating for one year, argues frequently, according to previous reports from AnnArbor.com.
"I'm trying to get (the judge) to dismiss the case," said Bryant's attorney Leland Schmidt after Tuesday's hearing was adjourned. "There's much reason to believe the allegations are not truthful."
Schmidt did not what to elaborate on specifics, but said the woman's claims to police were suspicious.
In the meantime, Bryant has been suspended from the team and has lost his scholarship, Schmidt said. The charges came one week before scholarships are awarded for the year and university officials were duty-bound not to renew it, the attorney added.
At the time of the arrest, university officials released a statement that said Bryant will be suspended from the basketball team "until the charges are dropped, dismissed or otherwise resolved."
The transfer from Arkansas played in the 2012-13 season for the Eagles, averaging 10.6 points per game. He started 30 of the team's 34 games and averaged 27.4 minutes per game, good for second on the team.
Bryant sat out the 2011-12 season after coming to Eastern in the summer of 2011, per NCAA transfer policy.
He remains free on an unspecified bond, court records indicate.
John Counts covers cops and courts for AnnArbor.com. He can be reached at johncounts@annarbor.com or you can follow him on Twitter.