Posted on
Fri, Aug 19, 2011 : 10:47 a.m.
Teen who stabbed girl on Ypsilanti High School property sentenced to prison
By Heidi Fenton
As Cortae Diaz Kelly stood before Washtenaw County Circuit Court Judge Archie Brown for his sentencing Friday, the man who prosecutors say showed no remorse for stabbing a woman on school grounds offered an apology.
"I ask that you see me not as a killer or a criminal, but as a young man who made a mistake that will affect the rest of my life," he said. "I take full responsibility for my crime and actions."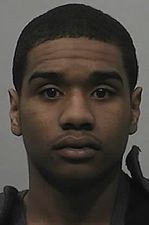 But Brown said Kelly's actions were no mistake.
With Kelly's family and the family of his victim, Joy Jordan, filling a courtroom Friday morning, Brown sentenced Kelly to 18 to 60 years in prison for stabbing Jordan at least 20 times Feb. 1 on Ypsilanti High School property. He will serve 2 to 5 years concurrently for a weapons charge.
Prosecutors say Kelly had an intimate relationship with Jordan, and after she told him she might be pregnant, he lured her to a dirt trail in a wooded area east of the school about a half hour after classes let out. There, he pulled a knife and stabbed her at least 20 times, making statements about the pregnancy during the attacks.
A person walking on the trail found Jordan, then 17, and called 911. She later explained she had faked her death in an attempt to avoid further harm.
Jordan was taken to the hospital in critical condition with stab wounds to her head, back and hands and continues to recover from her injuries.
Kelly pleaded guilty in June to assault with intent to murder and carrying a weapon with unlawful intent as part of a plea deal in his case. Prosecutors in exchange waived second counts of both felony charges.
"Stabbing someone 20 to 30 times is no mistake, it's an intentional action," Brown said Friday in response to Kelly's apology. "This crime demands punishment; this crime demands a message sent to the community that we're not going to tolerate this."
Kelly's family huddled together and shed tears as his sentence was read. Across the aisle, Jordan's family gathered in much the same way.
Joy Jordan, present as Kelly was led back into police custody, said she underwent two surgeries after the attack. She has lost feeling in her right hand and continues to struggle with headaches and vision problems.
She was harassed by other students after the attack and has since moved to a different school in an attempt to start over.
"I was being called a snitch for telling what happened to me," she said, explaining how other students would call out "Free Cortae" as she walked by. "It's done. It's just time to recover and get on with the rest of my life."
Testing eventually showed Jordan, now 18, was not pregnant as she had first wondered. But that February day, Jordan said, she made it clear nothing was certain.
"I didn't tell him I was pregnant, I said there was a possibility I was," she said. "I told him to wait a couple days before we could find out something."
Kelly's mother declined comment as she left Friday with family, but a cousin said Kelly had looked forward to his future. Kelly was not known for violence, Dionte Sims said.
"Mentally, he's not that type of person," Sims, 21, said. "He was trying to go to college, trying to do things, he had hopes for himself."
Heidi Fenton covers police and courts for AnnArbor.com. Reach her at heidifenton@annarbor.com or 734-623-4673. You also can follow her on Twitter or subscribe to AnnArbor.com's e-mail newsletters.