Posted on
Wed, Sep 4, 2013 : 6:25 p.m.
17-year-old charged with home invasion after resident finds him breaking into home
By Kyle Feldscher
An Ypsilanti Township teen is held on bond in the Washtenaw County Jail after he was discovered breaking into a man's bedroom.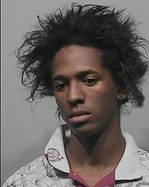 Courtesy of WCSO
Darius Tucker, 17, is facing a charge of first-degree home invasion after being arrested Monday. Washtenaw County Sheriff's Office Sgt. Geoffrey Fox said Tucker was arrested after a resident reported the break-in early Monday morning.
Deputies responded at 3 a.m. Monday to the 100 block of Ohio Street in Ypsilanti Township after a 33-year-old man found Tucker standing in his bedroom, Fox said. The man was watching television in the living room when he heard noises in the back of the house.
When the man went to investigate, he opened the bedroom door and saw Tucker standing in the room, Fox said. Tucker then fled through the window without taking any items, he said.
Deputies responded to the area and stopped Tucker as he walked down the street near the home, Fox said. Tucker's clothes and appearance matched the description given by the resident.
Tucker was placed under arrest and was taken to the Washtenaw County Jail, where he was arraigned on a first-degree home invasion charge Tuesday, according to court records. Jail records indicate he was given a 10 percent of $5,000 bond.
Tucker was still lodged in the Washtenaw County Jail as of Wednesday afternoon. He returns to court for a preliminary exam at 8:30 a.m. Sept. 10 in the 14A-1 District Court in Pittsfield Township.
Kyle Feldscher covers cops and courts for AnnArbor.com. He can be reached at kylefeldscher@annarbor.com or you can follow him on Twitter.