Posted on
Wed, Jan 30, 2013 : 5:59 a.m.
Thompson Block: Ypsilanti expects to hear new redevelopment plan soon, renovation deadline nearing
By Katrease Stafford
The owner of Thompson Block in Ypsilanti is expected to submit a formal redevelopment plan for the property in coming weeks as he faces a court-ordered Aug. 30 deadline to complete the work.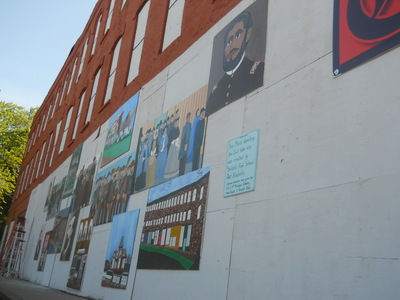 Katrease Stafford | AnnArbor.com
"We've been talking a little bit," said City Planner Teresa Gillotti. "Stewart Beal said he has some plans on the way and I expect a meeting in the next couple of weeks about what he's looking at on the redevelopment side."
A large fire gutted the Thompson Block building on Sept. 23, 2009. Beal, whose company Historic Equities Fund 1 LLC owns the building, and the city ended up in court over a disagreement on how to proceed with the building's renovation.
Beal previously estimated that a total renovation of the building would cost around $4 million.
Beal presented plans in the past that would have included commercial space on the first floor and entire northern segment of the 148-year-old Depot Town building. The second and third floors were to hold residential lofts.
That plan eventually was changed to making the entire building all-residential with 23 lofts ranging in size from 620 to 1,120 square feet.
Beal declined to comment for this article.
Beal and the city reached a consent agreement in August of 2010, that gave Beal three years to complete the exterior envelope of the building, including a roof, stable walls and all openings sealed with at least temporary doors and windows.
Beal has until the end of August 2013 to complete these renovations.
"The do have a deadline coming up on the envelope," Gillotti said. "The idea is to have a conversation with him before construction season."
The building's total assessed value for 2012 was $152,900. Beal purchased the property, located at 400 N. River, for $346,186 from David Kircher in 2006. Kircher is currently serving a five-year prison sentence for illegally pumping raw sewage into the Huron River from the former Eastern Highlands apartment complex on LeForge Road.
According to Washtenaw County delinquent tax records, Beal is up to date on the property's taxes.
Ypsilanti Mayor Paul Schreiber said he hasn't been in contact with Beal about the property, but he would like to see the building rehabilitated and its "historic character" kept.
"I would like for businesses to be there and for it to add to Depot Town," Schreiber said. "I'm sure Stewart would like to see the same thing, but wishing is one thing and having the investment done is another... I really don't know what Stewart has planned."
Council Member Brian Robb said his only concern at the moment is to make sure Beal complies with the court ruling.
"One of my things is to make sure we're not surprised when the due date comes around," Robb said. "I want to make sure we're on track to make that envelope... My focus is making sure the court order is complied and we're not back in court."
Katrease Stafford covers Ypsilanti for AnnArbor.com.Reach her at katreasestafford@annarbor.com or 734-623-2548 and follow her on twitter.