Posted on
Wed, Jul 31, 2013 : 5:55 a.m.
Thompson Block shares to be offered for $10K each
By Tom Perkins
Ypsilanti developer Stewart Beal hopes to sell shares in the Thompson Block in Ypsilanti for $10,000 each and has planned an open house for potential Thompson Block investors, tenants and the general public.
Beal hopes to sell 174 of the shares to raise $1.74 million and partially fund plans to redevelop 16 luxury lofts as well as 14,000 square feet of commercial space.
Beal recently made redevelopment plans for the Depot Town building public at an Ypsilanti Downtown Development Authority meeting, and he recently pitched Thompson Block as an investment opportunity to 150 members of Michigan Real Estate Investors group. Beal said members of the group will be taking weekly tours.
So far, Thompson Block LLC, the group that owns the 150-year-old structure, has raised around $300,000.
"With the rising real estate prices in Washtenaw County there is an absolute intensive demand in Ypsilanti right now … so this is a way for someone to get invested in Ypsilanti without purchasing a property of their own," Beal said.
The remainder of the approximately $4 million renovation will come from a $2 million loan. Investors' shares and the loan will be paid down by sale of an already secured $2.5 million in historic tax credits.
Beal said that model was employed when the Motown Construction Partners LLC, whose managing partner is Fred Beal, Stewart Beal's father, brought 23 investors on board to buy shares averaging $50,000 each to help fund the $53 million renovation of downtown Detroit's Broderick Tower.
"It was a successful way for people to get involved in the project," Beal said.
He said the ideal investor is accredited, meaning they have a net worth of $1 million, not including a single family residence. Beal said Securities and Exchange Commission regulations allow his company to sell shares to as many as 35 non-accredited and 400 accredited investors.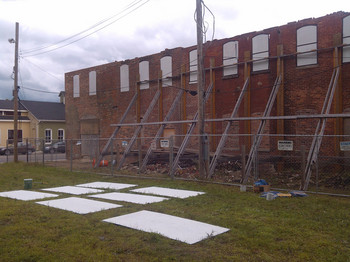 Photo courtesy of Stewart Beal
Beal recently wrote a letter to the Ypsilanti City council asking for an extension to a three-year deadline for completing the building's envelope. Beal noted the consent agreement agreed to in 2010 contained nine other provisions, all of which have been met.
A large fire gutted the Thompson Block building in September 2009 and landed Beal and the city in court over a disagreement on how to proceed with the building's renovation.
Since AnnArbor.com last reported on the deadline extension, Beal has completed construction of more of the building's east walls, but the roof will not be completed by the Sept. 1 deadline, Beal said.
"The roof installation timing no longer works for us because we need to incorporate that into our much larger project," he said.
The open house will be from 5 to 7 p.m. Aug. 21 at the neighboring Sidetrack Bar and Grill and Beal said the first 100 people to take a tour of the building will receive a $10 Starbucks gift card and a beer compliments of Thompson Block LLC.
The 16 lofts are each priced at around $1.10 per square-foot with the smallest loft at 610 square feet and the largest 1,187 square feet, putting the price range per unit between $732 and $1,036 per month.
According to the listing, the commercial spaces range from 1,100 square feet, up to the entire 14,000-square-foot commercial space at $16 per square-foot. The property is listed by Howard Hanna's Tyler Weston.
"The ideal scenario is having a restaurant or large brew pub that would anchor it on the (southwest) corner and smaller retailers around that," Beal said.