Posted on
Sat, Apr 6, 2013 : 5:58 a.m.
Tim Hortons Cafe and Bake Shop to open by July in Ypsilanti Township
By Katrease Stafford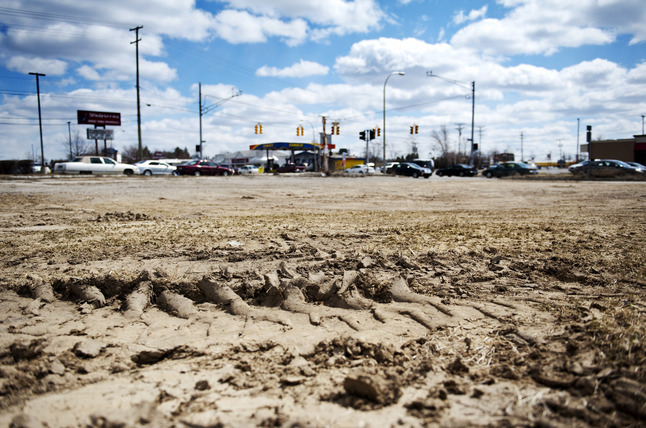 Daniel Brenner | AnnArbor.com
Plans to open two Tim Hortons Cafe and Bake Shops in Ypsilanti Township are moving forward, with one slated to open by July and the other in its final permit approval phase, township officials said.
The cafe slated to open in July is being built on the corner of James L. Hart Parkway and Huron Street, just south of Interstate 94.
Township Planner Joe Lawson said workers just broke ground on the property March 28, and should be finished within 90 days.
The other location is planned for a vacant lot at 2220 Washtenaw, on the corner of Hewitt Road.
"They have final approval, they're just waiting for final permits from MDOT," Lawson said.
Township Supervisor Brenda Stumbo said the national chain investing in two locations within the township is indicative of a turning economy. Stumbo said the township is still averaging a 35 percent reduction in its taxable value, but new development, especially on vacant lots, is promising.
"It's a sign of hope for us that it's coming," Stumbo said. "They're not high-paying jobs, but by adding new jobs, we have a lot of young people that need jobs. ... There's a lot of things happening, we just need to keep it going. We're seeing some positive activity."
The Canada-based Tim Hortons launched its cafe and bake shops in New York City in 2009 and began franchising them in 2010. Stumbo said the two locations will be similar to the company's other new locations and will have fireplaces, couches and soft chairs.
Each of the new locations will be about 1,950 square feet and include a drive-thru.
A Kroger gas station also is set to be built at the intersection of James L. Hart Parkway and Huron Street. Tim Hortons and Kroger agreed to split the 1.1 acre site.
Katrease Stafford covers Ypsilanti for AnnArbor.com.Reach her at katreasestafford@annarbor.com or 734-623-2548 and follow her on twitter.