Posted on
Fri, Nov 4, 2011 : 5:59 a.m.
30 cats cleared from 2nd foreclosed home in 2 weeks as Ypsilanti Township plans vacant home ordinance
By Tom Perkins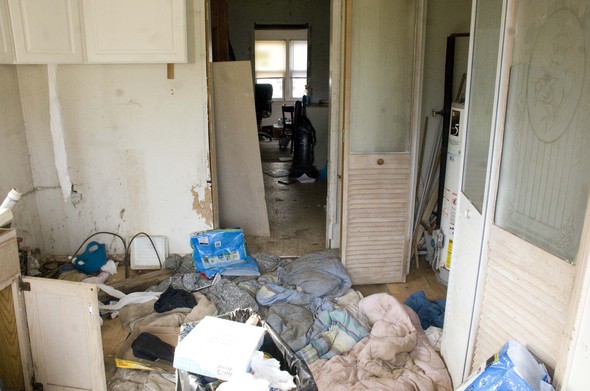 Tom Perkins | For AnnArbor.com
For the second time in as many weeks, the Humane Society of Huron Valley had to pull more than 30 cats, several dogs and other assorted wildlife out of a foreclosed Ypsilanti Township home owned by an out-of-town bank.
The home is packed with debris, the floor is covered in animal feces and saturated with urine and the stench is noticeable outside the home.
It's the latest example of why township officials are pursuing a new vacant home ordinance, they said this week as they described the proposed program.
The house, at 2149 McGregor Road, is also full of a variety of code violations, township officials said.
They add that the institution that has owned it since July 7 - Irving, Texas-based CitiMortgage, Inc - has failed to secure it and isn't responding to township correspondence.
Township attorneys received approval to take legal action at the Board of Trustee's meeting this week.
But prior to the board approving legal action against CitiMortgage, officials discussed a proposed new ordinance intended to help address deterioration in neighborhoods by nipping such problems in the bud.
Ypsilanti Township has a high foreclosure rate and a steady stream of stories about neglected and abandoned properties posing serious heath risks to neighbors in recent years.
The ordinance would require owners of properties vacant for 30 days to register the homes or businesses with the township and allow township officials to inspect them. The township's office of community standards would keep a registry of vacant properties and officials would visit them annually.
Mike Radzik, director of the office of community standards, said the ordinance will decrease the number of seriously blighted foreclosed properties by bringing them to officials' attention much sooner.
"We've had so many cases where we become aware of an abandoned home after the electricity's shut off so the sump pump isn't working and the basement is now a swimming pool," Radzik said. "There will be the mold, the odor, the rodents and animals wll have taken over the house.
"With this ordinance, we can get in there and monitor the houses so they don't get to that point," he said. "In the long run, hopefully, it will reduce our nuisance properties and costs."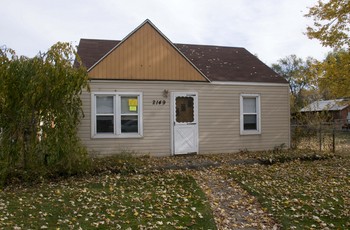 Tom Perkins | For AnnArbor.com
The office of community standards is working with the civil division of the sheriff's department to identify homes as they're foreclosed and purchased. Radzik said the sheriff's office holds a foreclosure auction each Thursday and can provide township officials with a list of recently foreclosed homes and their owners.
That means the township could know within a matter of hours when a home is foreclosed and purchased instead of months or years.
One of the driving issues behind exploring the ordinance is the strain on township resources. When a nuisance property is brought to the township's attention because, for example, the cockroach infestation and mold odors from an abandoned home are spilling over into neighboring properties, the township must act quickly.
In most serious cases like that, the owner, whether it is a bank or individual, is unresponsive. The township must pay their attorneys to take legal action, pay to have a local company come board to secure the home, pay for a title search and pay up front to fix the issues.
Often times a lien is placed on the homes, though not all costs are recovered. Radzik estimated the cost of securing a house on Davis Street and clearing it of 50 cats cost the township as much as $10,000 several weeks ago.
He said that is about average for a blighted property in Ypsilanti Township, and they see new properties weekly.
In the most severe cases, the township has spent up to $40,000 to abate a nuisance property that posed a serious health risk to neighbors. If a house needs to be demolished, that can run between $15,000 and $25,000, though funds can often be recouped.
Neighbors also suffer financially because their home values are significantly impacted by blighted homes.
"It's not fair to homeowners when speculators come in and say 'Why should I pay you market value when the neighbor's house is overrun by vermin, cats, dogs, cockroaches and everything else?'" township attorney Dough Winters said. "It affects property values when the home is boarded and looking like the Addams Family house."
Once the sheriff's department alerts the township to the foreclosed properties, officials would then contact the new owner, which is a bank or mortgage company in most cases, and notify them of the ordinance requiring the home to be registered. If a bank ignores the notification, then Winters said officials can assess the situation and issue a civil infraction handled in district court.
A lien would be placed on the property to cover the the costs associated with mowing the lawns, securing the house and going to court, if the owner fails to appear. In the case of a home that might have more serious issues, the township can obtain an administrative search warrant and proceed in Washtenaw County Circuit Court.
Winters blasted the banks and federal government, which owns mortgage underwriters Fannie Mae and Freddie Mac. He said the township has "sued every bank in the country at this point."
"This is another tool in our arsenal of weapons helping us stabilize neighborhoods," he said. "The biggest investment people make is their homes. If you have one home that went bad on the street it's like a cancer, and you can lose an entire street if you don't act quickly, so we have to do what we can to prevent a cancer from spreading."
Supervisor Brenda Stumbo said she supported the ordinance and called it an effective measure in getting ahead of the blight related issues stemming from foreclosures.
She also expressed frustration with the banks for neglecting properties and saddling the township with responsibility for maintaining and cleaning up the homes.
"The banks, mortgage companies and federal government do not care what havoc they have created bringing down the stability of neighborhoods that require local taxpayers to fund circuit court action," Stumbo said. "Our goal is to get cooperation from these institutions by having them be part of the process and holding them accountable.
"They received a huge bailout and local governments continue to take care of their property and their problems with local taxpayer money."
The township board didn't take any action on Tuesday, and staff will bring a first reading of the ordinance to the next regular meeting.