Posted on
Sun, Mar 31, 2013 : 12:20 p.m.
Trial date set for man accused of beating woman and running her over with a car
By Kyle Feldscher
The man accused of brutally assaulting a woman, stabbing her and running her over with a vehicle will stand trial in June, a judge ruled Tuesday.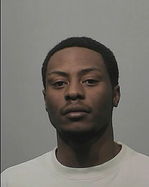 Michael Glenn, 21, was in court for a pretrial hearing Tuesday afternoon in front of Washtenaw County Trial Court Judge Donald Shelton. There are multiple motions expected to be filed in the case, but a trial date was set for 8 a.m. June 17.
Glenn will return to court for a pretrial hearing at 1:30 p.m. April 23, when all motions in the case must be filed, Shelton said. The final pretrial in the case, when all the motions must be heard by Shelton, is scheduled for 1:30 p.m. May 21.
During court proceedings Tuesday, Glenn looked back into the gallery and smiled at supporters multiple times. After the hearing was completed, he walked back to the lockup with a smile and wave for the people sitting in the gallery.
According to police, Glenn beat a woman Nov. 27 after she tried to break up with him while the two were in a vehicle parked in front of his house in the 2300 McKinley Road in Ypsilanti Township.
Glenn got in the woman's car and punched her in the face multiple times when she told him she wanted to break up with him, according to investigators. She was stabbed multiple times with an unknown object and strangled until she blacked out before Glenn took her out of the car and ran her over with the vehicle, police said.
Investigators said Glenn tried to put the woman in the trunk of the car before she convinced him she wouldn't leave him. When Glenn walked away from the area, the woman fled to a neighbor's home and called police. Glenn allegedly stole the woman's car and fled the area before deputies could arrive on scene.
He was arrested in mid-January in Detroit and is lodged at the Washtenaw County Jail on a $250,000 bond.
Glenn faces two counts each of assault with intent to murder, assault with intent to do bodily harm less than murder and assault with a dangerous weapon. He faces a single charge each of carjacking, motor vehicle theft, unlawful imprisonment and domestic violence.
Kyle Feldscher covers cops and courts for AnnArbor.com. He can be reached at kylefeldscher@annarbor.com or you can follow him on Twitter.