Posted on
Sun, Oct 28, 2012 : 1:08 p.m.
January trial date set for brothers accused of abducting, shooting man
By Kyle Feldscher
The two brothers accused of abducting and shooting a man multiple times before leaving him on the side of a Superior Township road on Aug. 10 will stand trial in January.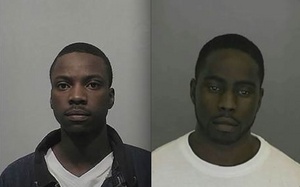 Courtesy of the Washtenaw County Sheriff's Office
Allan Tomlinson, 26, and Clinton Desir, 23, are accused of abducting Julien Butler from outside an Ypsilanti party store and holding him at gunpoint as they drove to a rural Superior Township road. According to testimony Butler gave at a preliminary exam, he was shot and left bleeding on the side of Old Ford Road as revenge for allegedly raping the mother of Desir's child. Butler denied the accusation of raping the woman.
Tomlinson and Desir appeared in court Tuesday in front of Washtenaw County Trial Court Judge Donald Shelton. The two men will face trial at 8 a.m. Jan. 28.
A pretrial hearing was scheduled for 1:30 p.m. Nov. 27 for the two men to come back into court for more discussion on a possible resolution to the case. If that doesn't occur, a final pretrial hearing is scheduled for 1:30 p.m. Jan. 15.
Desir is charged with assault with intent to murder, assault with intent to do bodily harm less than murder, three counts of assault with a dangerous weapon, unlawful imprisonment, conspiracy to commit assault with intent to murder, conspiracy to commit assault with intent to do bodily harm less than murder, conspiracy to commit assault with a dangerous weapon, conspiracy to commit unlawful imprisonment, carrying a concealed weapon and possession of a firearm during the commission of a felony.
Tomlinson faces all those charges plus an added count of being a felon in possession of a firearm. Tomlinson has a prior conviction for armed robbery and conspiracy to commit armed robbery in 2005. He served 6 1/2 years in prison for that conviction.
Butler said Tomlinson pointed a gun at him while Desir drove the vehicle and, at one point, Tomlinson put the gun under Butler's nose for him to smell the gunpowder. Butler testified Tomlinson spoke on the phone with a woman and told her he was going to shoot Butler.
According to Butler's testimony, the two men took Butler out of the vehicle and Tomlinson shot him repeatedly. Doctors told Butler he suffered 13 wounds, causing severe injuries to his hip, thigh, buttocks and testicles, he said. One of his hips had to be replaced and a prosthetic bone was put in his thigh to replace his shattered femur, he said. He was in the hospital for nearly two weeks.
Butler was tended to by passers-by who saw him laying on the side of the road, among them an off-duty paramedic.
Desir and Tomlinson are being held in the Washtenaw County Jail. Desir's bond is $300,000 and Tomlinson is being held without bond. If convicted, both men face a maximum punishment of life in prison.
Kyle Feldscher covers cops and courts for AnnArbor.com. He can be reached at kylefeldscher@annarbor.com or you can follow him on Twitter.