Posted on
Mon, Aug 26, 2013 : 9:52 a.m.
Trial set for Ypsilanti Township couple charged with pumping marijuana odor into their neighborhood
By Tom Perkins
An Ypsilanti Township case against a couple charged with pumping intense medical marijuana fumes out of their house will go before a judge later this month.
Township attorneys allege that Michael Engle and Deborah Klochubar have been processing medical marijuana in their home at 1397 Crestwood Ave., and the fumes have impacted their neighbors' quality of life.
Klochubar's next door neighbors have complained regularly about the odor, and she and Engle have denied an odor exists and blamed the smell on skunks.
Township Attorney Dennis McLain said he is asking Washtenaw County Circuit Court Judge Archie Brown to enter a preliminary injunction preventing Klochubar and Engle from doing whatever it is that is producing the odor.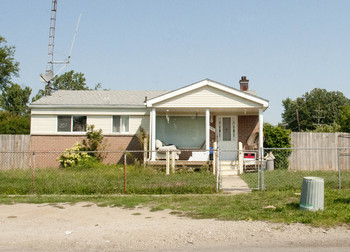 Tom Perkins | For AnnArbor.com
They are also asking the judge to order Engle and Klochubar to limit the number of plants they grow to what is allowed in residential zones under township zoning ordinance. The zoning says patients can only grow plants for themselves in residential zones and caregivers or grow operations must operate out of light residential zones.
The case was scheduled to go to trial today, and has been in the court system since December.
"We're requesting that the court enter a preliminary injunction that prevents the residents from emanating an offensive odor," McLain said.
Township officials have stressed that that issue doesn't have to do with medical marijuana laws but zoning ordinances regulating what kind of odors can be emitted in the township.
The noxious fumes zoning ordinance states that the "creation of offensive odors shall be prohibited" in any zone.
McLain said the township has a long list of witnesses to testify that they have smelled the odor.
He added that the township also believes Klochubar and Engle have more marijuana plants in their house than the number a caregiver is allowed to grow under the MMMA.
According to state law, a person with a medical marijuana patient's card can grow up to 12 plants for their personal use. Ypsilanti Township ordinance allows residents to grow their personal plants in residential zones.
"The bottom line is we're asking judge to uphold our medical marijuana ordinance," McLain said.
A Washtenaw County Circuit Court judge ruled in March that the MMMA does not pre-empt local zoning laws regulating the production and distribution of the drug.
Eric Misterovich, attorney for Engle and Klochubar, argued that state medical marijuana laws pre-empt local ordinances, and the township's zoning ordinances regarding medical marijuana are not enforceable.
The state law does not say where medical marijuana can and cannot be grown. Misterovich asked Judge Brown to dismiss the case, but Brown disagreed with Misterovich's assessment.
Matt Abel, the couple's new attorney, was not available for comment.