Posted on
Thu, Dec 22, 2011 : 5:37 p.m.
Two die in murder-suicide in Ypsilanti Township
By Cindy Heflin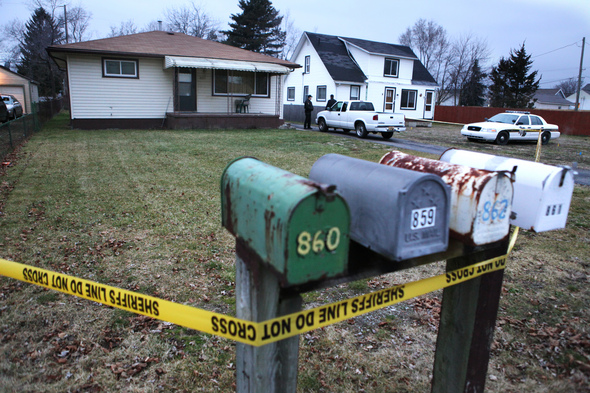 Jeff Sainlar | AnnArbor.com
Two people are dead in what appears to be a murder-suicide in
Ypsilanti Township
, Washtenaw County sheriff's department spokesman Derrick Jackson said.
A 53-year-old man is believed to have shot his 47-year-old wife to death and then turned the gun on himself at their home in the 800 block of Lamay Street in Ypsilanti Township, Jackson said.
A friend had tried to call the couple today and was not able to reach them and then drove to their house to check on them, Jackson said. The friend saw that their cars were both there, but no one answered the door. He looked in the window and saw one of them lying on the floor.
He got a neighbor to help him, and the two of them kicked down the door and discovered the bodies inside about 3:15 p.m. this afternoon, Jackson said.
A family member last had telephone contact with the couple about 10 p.m. Wednesday, Jackson said.
The Washtenaw County medical examiner has been called to the house, he said. Officials from the medical examiner's office arrived at the home at about 5:30 p.m.
Lamay Street was crowded this evening as cars coming off Holmes Road had to navigate their way around sheriff's deputies' vehicles and the cars of family members parked in front of the home. The home was taped off for police to investigate and remained dark as night fell.
Family members gathered on the lawn of the home next door to the scene of the crime declined to speak to AnnArbor.com when approached just after 5 p.m. Neighbors who answered their door on Lamay Street also declined to comment.
Police at the scene directed all questions to Jackson. Further details were not available at 6:30 p.m., as Jackson said police were waiting for the medical examiner to complete his portion of the investigation.
This is an update of a story published earlier today.