Two events combine in Ypsilanti's Parkridge Park to inform and entertain
Posted on Sat, Aug 25, 2012 : 10:32 p.m.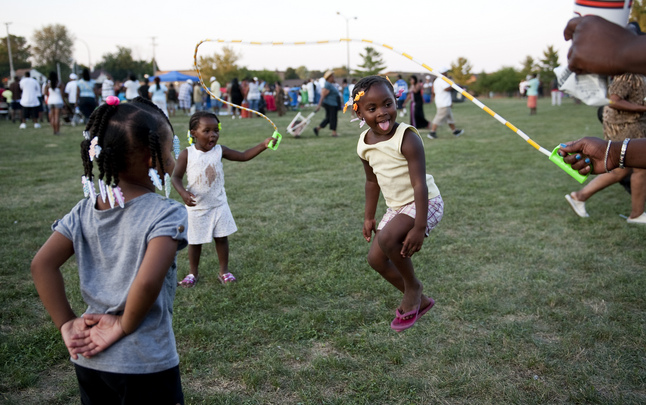 Daniel Brenner I AnnArbor.com

For anyone who doesn't know it, the Parkridge Community Center in Ypsilanti is open, serving the community, and celebrating that fact all day today.

It's the second annual Parkridge Community Center Summerfest and 5th Annual Washtenaw County Joe Dulin Community Day. Dulin is the community leader and founding principal of Ann Arbor's Roberto Clemente Student Development Center.

The two events were being celebrated together from 11 a.m.-8:30 p.m. at Parkridge Park, adjacent to the Perry Child Development Center and behind the Community Center at 591 Armstrong Drive in Ypsilanti.

"More people can be reached and more community resources can come together by combining the two events," said Mary Jo Callan, director of the Office of Community and Economic Development for Washtenaw County.

It's the first time the Summerfest, which is in its second year, and the Dulin Community Day, in its fifth year, have been celebrated together. Today's event offers information about job training programs, youth mentoring services, public health services and more. There also is entertainment, a car show and vendors.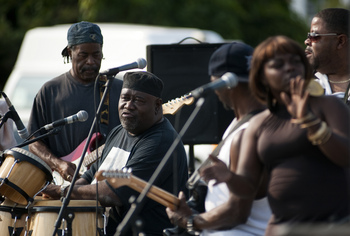 Daniel Brenner I AnnArbor.com
"Resources for unemployment and foreclosures are available here today and needed more than ever," said Ypsilanti City Council member Ricky Jefferson. "The Community Center offers a comfortable, safe environment. Just because it's on Ypsilanti's south side doesn't mean it's dangerous."
Anthony Williamson, who is very involved with the community center, is the program manager for the Harriet Street Extension Center and helped make today's festival happen.
"I try to improve things that go on in the community," said Williamson. "We need people who know the history to show youth we can get together. This is an at-risk area, and people aren't aware of the many resources Washtenaw County has to offer."
Williamson says the Parkridge Community Center is a place for members of the community to gather and that there are activities for all ages. The center, which was built in 1943, works to get youth involved in safe, positive and structured activities after school and during time off from school. It offers a gymnasium, exercise equipment, computers, and a food prep area.
Hundreds of people were attending today's events and enjoying the park's spacious grounds.
"It's great that it's in this park," said Melanie Herron, who was visiting booths with her two daughters.
"People are so friendly here," said Layna Herron, 11.
"There are a lot of different vendors and lots of things are free," said 9-year-old Amara Herron.
"This is a fun atmosphere for children, and because it's close to our community, it lets residents come out and find out what's going on," said Eric Temple, interim director of the Ypsilanti Housing Commission.
The birth of the festival was inspired by memories of the past annual Black Arts Festival which took place in the late 1960s through the early eighties.