19 deputies break up unofficial 'Icebreaker' party denounced by EMU officials
Posted on Fri, Sep 7, 2012 : 12:21 p.m.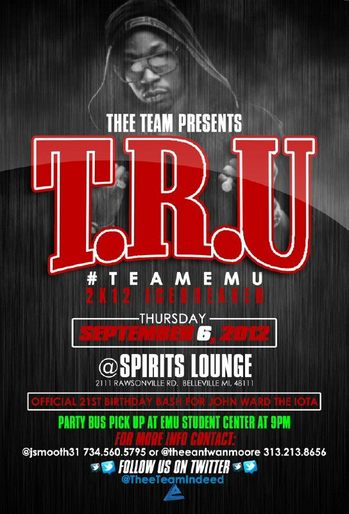 The unofficial "Icebreaker" party that prompted Eastern Michigan University officials to distance the school from the event Thursday resulted in four arrests and required 19 sheriff's officials to clear the area after the party was shut down.

Washtenaw County Sheriff's Office Sgt. Geoffrey Fox said Friday a large number of people were inside Spirits Restaurant and Lounge during the T.R.U #TEAMEMU 2K12 Icebreaker party Thursday at Spirits. The Ypsilanti Township Fire Department eventually shut down the bar at 2111 Rawsonville Road because it was over capacity, Fox said.

"We proactively had staff in the area of Spirits Lounge due to ongoing issues with the bar and the fact that they were hosting another party," Fox said.

EMU spokesman Geoff Larcom denounced the party earlier in the day, saying the university was not affiliated with the promotion in any way. He contended the #TEAMEMU slogan used for the party was an illegal use of EMU's name.

Party organizers said the use of the Twitter hashtag was not an attempt to associate the school with the party and was simply a way to let the school's students know about the event. Justin Schaffer, a promoter with Thee Team, noted the party's fliers did not say the party was an official EMU event and never used the full Eastern Michigan University name.
Your group is not affiliated with Eastern Michigan and EMU is not sponsoring or affiliated with your party.

— Gloria Hage (@GloriaHage1) September 6, 2012
After AnnArbor.com's story on the Icebreaker event was posted Thursday evening, EMU General Counsel Gloria Hage took to Twitter to tell organizers of Thursday's party and one scheduled for Sept. 13 to cease and desist using the university's name and logo to promote their parties.
Icebreaker events held at various bars and clubs in Washtenaw County have been known to result in fights and other incidents and Thursday's event was no exception, police said.
Sheriff's deputies were clearing the area when a fight started, causing three people to be arrested for disorderly conduct. Fox said another person was arrested on numerous warrants.
In addition, deputies issued parking tickets for various violations in the bar's parking lot and will be sending information to the Liquor Control Commission regarding violations at the party.
In all, it took almost 20 officers to get everything under control.
"By the end of the night, we utilized 17 deputies and two command officers to gain control of the scene," he said.