Posted on
Sat, Jul 27, 2013 : 5:58 a.m.
Ypsilanti's You Can't Stop Me Now Project brings song, good will into the community
By Janet Miller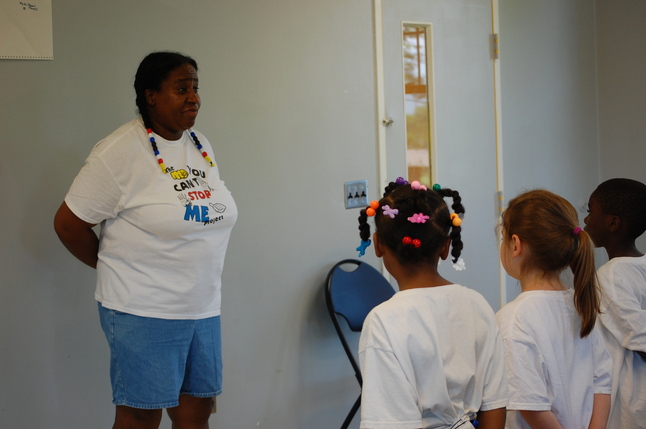 Janet Miller | For AnnArbor.com
Erickson Elementary School
in the former
Ypsilanti Public Schools
had a reputation for splashy musical productions. Each year, it would pack Pease Auditorium on the campus of Eastern Michigan University to perform a musical version of Shakespeare's "As You Like It," "Annie" and even the opera "Carmen."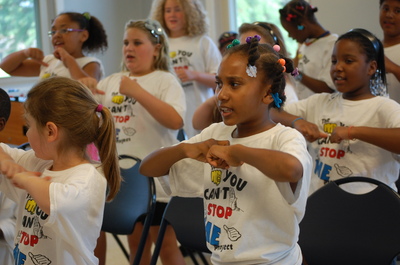 Janet Miller | For AnnArbor.com
So when Erickson music teacher Crystal Harding wasn't able to win school district approval for student performances for the academic year that just wrapped up, she took matters into her own hands and created the justly named You Can't Stop Me Now Project, a children's choir that has performed more than 20 gigs since it was founded at the end of 2012.
"Performance is my life's work," said Harding, who has taught school for 26 years. "I've got to do it. I didn't become a music teacher so I could teach kids how to sing songs and then go home."
But that didn't happen last school year. The district was in transition as it consolidated with the Willow Run Community Schools to create the new Ypsilanti Community Schools district. And there was concern about pulling students away from instructional time for performances, Harding said. "No one would say that I couldn't do it, but no one would say that I could. I couldn't get an answer."
Janet Miller | For AnnArbor.com
In December, Harding created the You Can't Stop Me Now Project, named after a song she had written. Their first performance was with the Ypsilanti Symphony Orchestra's holiday concert.
Since, there have been more than 20 performances at senior citizen homes, churches, community gatherings and even at an athletic center. When Harding took choir members to the Romulus Athletic Center for some fun at the water park as a reward, students were asked to perform for guests who were exercising. "We'll perform anywhere," Harding said. Dance moves are part of the performances, she said. "We're like 'Glee' junior."
But it's about more than music and dance. With many of the performances at homes for the elderly, it's about bridging the generations, Harding said. "I tell the kids they are rock stars. They go in and greet the residents, shake hands." While the choir showcases young talent, said parent Ayana Jones, it also connects the generations. "It's good to have the generations interact both ways," she said. "It makes everyone happy."
The You Can't Stop Me Now Project practices once a week at the Parkridge Community Center in Ypsilanti. There is no break for summer. While there are about 60 members in total, the choir on any given week or at any given performance can vary in size. "No matter who shows up, it's a show," Harding said. "At one show we had seven kids and we rocked the house. I tell the kids, 'The Jackson 5 only had five kids.'"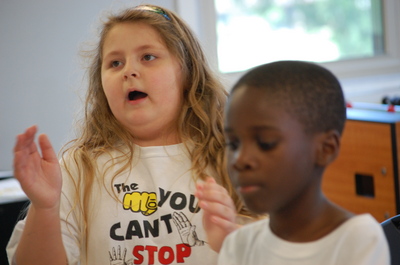 Janet Miller | AnnArbor.com
Choir member Larry Jones-Williams looks at his involvement in the choir as a career move. "I just want to be famous," the 9-year-old said. He started singing when he was 3 years old and hasn't stopped, he said. While he's a big fan of rap, Larry said he loves of all music. The way Larry sees is, The You Can't Stop Me Now Project is his first stop on his way to the big time.
But the group's growing reputation and invitations from places farther afield have created a new problem: Financing. Its shoestring budget — with revenue coming from a handful of organizations and Harding's mother — isn't enough to provide transportation to performances scheduled this summer in Rochester Hills, Sterling Heights and beyond.
Harding is looking to the community for support. They don't charge for performing. "We want to serve. We are a community service group," she said.
Finances are tight. "We can't afford buses. I wanted to send a flyer home and we couldn't afford paper. I had to do everything electronically," Harding said. With invitations coming from senior communities more than an hour away, transportation is needed. And that costs money, Harding said.
Then there are the things that money can't buy: Ask Harding if she has any choir members who are exceptionally talented and she'll answer affirmatively. "They are all exceptional with phenomenal voices," she said. "I tell the kids, "Whoever shows up, you're the star.'"
For more information or to donate, go to https://www.musicpage.com/ycsmp.
Janet Miller is a freelance reporter. Contact the AnnArbor.com news desk at news@annarbor.com.