Posted on
Mon, Jun 24, 2013 : 5:58 a.m.
Demolition ex-GM plant set to begin; $43 million budgeted for clean up
By Tom Perkins
The General Motors trust that owns the former Willow Run Powertrain Plant is beginning the process for what could be a 3-year, $43 million demolition and cleanup of the mostly vacant 320-acre property.
The project likely won't cost that much, but liquidator RACER Trust wants to have enough money on hand to remediate and cleanup the area for the next 100 years, if necessary.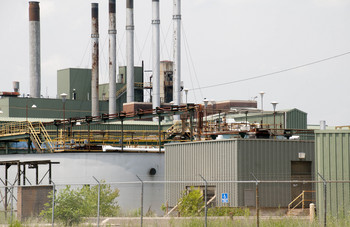 Tom Perkins | For AnnArbor.com
Grant Trigger, RACER'S Michigan's cleanup manager, said the demolition and clean up involves two separate sites. The first site that will be addressed is the 20-acre former company vehicle operations area south of Tyler Pond.
The second portion is the demolition of the main plant, which is a challenge for the scope of the project. There are 83 acres of factory under the roof and 320 acres of property. Demolition is expected to begin in August and should take around a year, and the remediation could last another two to three years.
Aside from the challenge of taking down one of the world's largest industrial complexes, Trigger estimates there are 40 acres of ground water contaminated with oils and chemicals that have seeped through the floor.
"The oil is relatively mild, if you will, but it still slowly seeps into the sewers, so we have to manage that contaminated groundwater," he said.
Removing the building will accelerate that process. Each time it rains, RACER must treat the stormwater that falls on the building, since it is collected into the storm system then contaminated by the groundwater, which has 60 years worth of oils and chemicals in it.
Tom Perkins | For AnnArbor.com
"We are still evaluating what our remedial options are for that site," Trigger said.
He added that anyone wanting to redevelop the land can purchase the property and know that any environmental issues that are discovered and related to the plant will be addressed and paid for by RACER.
But the first area that will be addressed this summer is the commercial vehicle operations area. Vehicles were maintained there and the trust will be excavating 7,000- to 8,000-yards of contaminated soil containing PCB's, some oil and chemical contamination from cleaning solutions. The PCB's will be removed separately and shipped to Texas for disposal, while other contaminated soils will go to local landfills owned by Van Buren Township-based Environmental Quality.
Trigger said that will require cleanup crews to be at the site in full protective suits, though the material doesn't pose any threat to the public.
"We want people in the community to understand there's no reason to be alarmed," he said. "It's like when you wear rubber gloves to do housecleaning work to avoid getting harmed by the chemicals."
RACER also found buried paint sludge near the building that will have to be removed, and groundwater it contaminated must be treated.
"The bottom line is there is going to be a considerable amount of remediation at the CVO site this summer and fall," he added.
But Ypsilanti Township officials who must sign off on the demolition permit are expressing concerns about the preservation of the plant's history and redevelopment of the property.
RACER stands to make tens of millions of dollars from recycling materials like steel from the plant, and the township want to see some of that used to help redevelop the property.
"Whoever goes to demolish these plants is reaping millions of dollars in recyclables, and we believe those dollars should go back into redevelopment of that site for new uses," Township Attorney Doug Winters said, while highlighting the plant's proximity to two airports, a major international crossing, rail and a freeway.
"This property is too uniquely situated. It can be something that can be more integrated into today's world global economy. We need to sow the seeds of those dollars they are going to get from the demolition of the plant."
Bruce Rasher, redevelopment manager for RACER, said the trust owns properties in 14 states and stressed that there are rules that govern its management.
"One of the rules is the proceeds of sales of trust assets must be used for trust operations, which does not include property redevelopment," he said. "That is not permitted. Our role is to find qualified buyers with proposals to redevelop properties that meet the trust's requirements.
"The trust was not given funds for that purpose."