Posted on
Fri, Jul 12, 2013 : 5:58 a.m.
Ypsilanti's VC Web Design moves to Depot Town to accommodate larger staff
By Chelsea Hoedl
VC Web Design, a company that specializes in website construction and video work, is in the process of moving locations to accommodate the company's steady growth.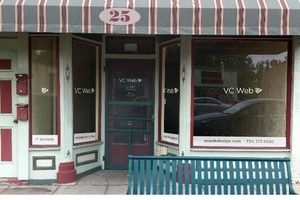 Courtesy of VC Web Design.
A lease for the new store located at 25 E. Cross Street was signed on June 18.
The space was previously occupied by Kim's Resale Shop, which closed in May because owner Kim Ion received an offer for all of the merchandise in the store. She's now focusing on a flea market venture.
VC Web Design began moving from its old location at 9 S. Washington St. on July 3 and owner Vince Chmielewski said he thinks the transition will be complete this week.
"We were running out of space in the old office because we hired a few new people," Chmielewski said. "We've been growing pretty steadily and have doubled the last four years in a row. We had the work to do and we needed the workers to do it."
In the last year, VC Web Design added three new members to its seven-person staff. A developer, salesperson and marketing specialist were hired to keep up with growing business.
"I've had my eyes open and looking for a new space for the last year because I knew we'd be hiring," Chmielewski said. "When we actually did hire, it became a little more urgent."
Chmielewski said he wanted to keep the businesses in Ypsilanti because it's where the company started and he wanted to maintain a close relationship with local businesses.
"We liked the idea of being in Depot Town," Chmielewski said. "There's a lot more foot traffic and it is a much more visible location. There are going to be a lot more people walking by the office now and my hope is that more people will be aware of us and will stop in."
VC Web Design's old location was about 700 square feet. The new location is just over 1,000 square feet and Chmielewski said the layout is more open so there is more room for the staff.
"The new location will have space for at least one or two more people," Chmielewski said. "It's great because we can still hire and at the rate we're growing, we probably will expand our staff within the next year or two."
Chelsea Hoedl is an intern reporter for AnnArbor.com. She can be reached at choedl@mlive.com.