Posted on
Fri, Feb 1, 2013 : 10:30 a.m.
Volatile court hearing ends in new lawyer appointed for man accused of stealing acquaintance's bike
By Kyle Feldscher
The man accused of dropkicking an acquaintance and stealing his bike will get a new attorney and his trial date is canceled after a volatile court hearing ended with his counsel withdrawing from the case.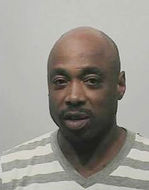 Courtesy of the WCSO
Percy Frame is charged with armed robbery and carrying a weapon with unlawful intent for an incident on Aug. 8 in Ypsilanti. According to police, Frame dropkicked an acquaintance and stole his bike while carrying a knife.
During Monday's court hearing, Frame and Erane Washington, his attorney, clearly were at odds over a discussion that took place at the Washtenaw County Jail earlier in the day. Both Frame and Washington accused each other of yelling at the other during discussions about the case.
Washington said there had been offers from Washtenaw County prosecutors for Frame to take a plea deal before a scheduled trial date on Feb. 4. Frame refused to accept those offers because he wanted to speak to a private investigator hired to find witnesses in the case. He also accused Washington of not working with him and not finding the witnesses he told her to find.
Frame was agitated during the duration of Monday's hearing and had to be physically restrained by Washtenaw County Sheriff's Office deputies during the hearing. Deputies stood between Frame and a clearly-upset Washington.
"I've never withdrawn from a case this late in the game," she said. "But, there's been a breakdown."
Washington's request to withdraw from the case came after Washtenaw County Trial Court Judge Darlene O'Brien passed the case for Washington and Frame to discuss the matter. Washington said Frame verbally berated her and belittled her during the "discussion" and she felt the two of them could no longer work together.
The final pretrial hearing was supposed to be the last step before a trial began in the case next week. The hearing was adjourned until Feb. 11 to give the newly-appointed Legal Defense Group time to catch up on the case.
"The trial on Feb. 4 is canceled because of Mr. Frame's inability to work with Ms. Washington," O'Brien said.
Frame, who is listed as homeless in court documents, insisted several times he needs to speak with the private investigator hired by the defense to find witnesses, despite Washington telling O'Brien he has, in fact, met with the investigator. Frame contends there were witnesses to the incident who will clear his name.
It's not the first time Frame has made possibly ill-advised statements in court, causing a ruckus. He was escorted from court for shouting in October.
During his statements to the court Monday - statements he shouldn't have made, based on the advice of his attorney and O'Brien - Frame said there was a confusing amount of plea offers on the table. He said prosecutors have charged him with more serious crimes than the incident merited, calling it blown out of proportion.
"I apologize for even coming to the courtroom and spending taxpayer money on this case," he said.
Kyle Feldscher covers cops and courts for AnnArbor.com. He can be reached at kylefeldscher@annarbor.com or you can follow him on Twitter.