Posted on
Mon, May 6, 2013 : 5:58 a.m.
Ypsilanti P.R.I.D.E. Day: Volunteers needed to beautify city, township
By Lisa Carolin
When hundreds of volunteers show up on a Saturday morning, a lot can be accomplished in a short amount of time.
That's the goal of Ypsilanti P.R.I.D.E. (People Restoring Image and Developing the Environment) Day, which will take place on May 18.
Volunteers will work at more than 40 sites in the city of Ypsilanti and in Ypsilanti Township, doing everything from cleaning up to planting flowers, all with the goal of beautifying the area and boosting community pride.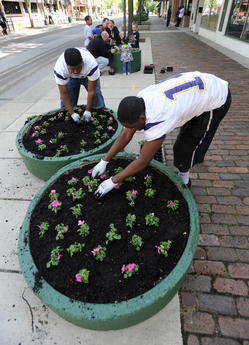 Lon Horwedel | AnnArbor.com
"The benefit is twofold," said Tim Colbeck, director of the Ypsilanti Downtown Development Authority. "There's good will and the actual work that's getting provided. You're getting so much free labor."
P.R.I.D.E. sites scattered around the city and township include Frog Island Park, downtown and Depot Town, SOS Community Service, Ford Lake and Ford Lake Park, and Prospect Park.
The P.R.I.D.E. program was founded by the 1995 graduating class of Leadership Ypsilanti and was the result of the class looking for ways to be leaders in the community and analyzing the strengths and weaknesses of the community.
"The class felt they needed to concentrate initially on area wide cleanup efforts identifying blighted areas and soliciting volunteers," said Julie Kedroske, Ypsilanti PRIDE Day coordinator, who works at the Ann Arbor/Ypsilanti Regional Chamber. "Funds were raised from local businesses, and the PRIDE Committee flourished and worked with local churches, youth groups, downtown and Depot Town associations, families, the city, townships and other designated entities."
Kedroske said about 500 people have registered to volunteer and organizers expect more than that by P.R.I.D.E. day.
"Ypsilanti P.R.I.D.E. Day is more than just a spring cleaning," said Kedroske. "It's a day of cooperation, beautification and participation, all with the spirit of strengthening the tremendous Ypsilanti-area community and the remarkable people who make it special."
For more information, go to the Ypsilanti P.R.I.D.E. Day website or contact Kedroske at 734-214-0109.
Lisa Carolin is a freelance reporter. Contact the AnnArbor.com news desk at news@annarbor.com or 734-623-2530.