Posted on
Mon, Sep 26, 2011 : 5:56 a.m.
Students at new Washtenaw International High School find 'so many cultures in 1 room'
By Janet Miller
Angela J. Cesere | AnnArbor.com
Megan Andrews
has attended schools across the globe, from England to Japan to Ann Arbor. So when she learned that seven Washtenaw County school districts, along with the Intermediate School District, were opening an International Baccalaureate school, she didn't have to think twice.
It was like coming home. "There are so many cultures in one room," Megan said of her new school. "I've been around international kids my whole life."
Megan is one of 120 students enrolled in the first year of Washtenaw International High School, a free, publically funded academically challenging magnet school that offers an international education.
The school will offer the International Baccalaureate diploma along with a Michigan-endorsed high school diploma, said Bert Okma, school principal. The nonprofit IB was founded in 1967 in Geneva, Switzerland and now has more than 3,200 programs in 140 countries. The IB diploma is recognized around the world.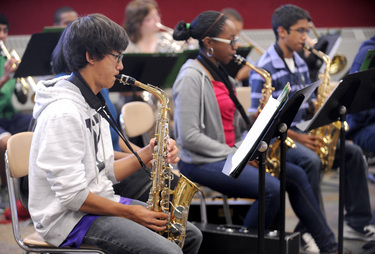 Angela J. Cesere | AnnArbor.com
Washtenaw International is located in Ypsilanti, in the former East Middle School building. Wi Hi opened to its first ninth grade class in mid-August, following the international practice of a longer school year with a shorter summer break. "We wanted to emulate other international schools, locally and around the world," Okma said.
The first year opened with just the ninth grade, and a grade will be added each year. The school didn't fill to capacity its first year, but Okma said he expects to enroll 150 students per class in the future. "A lot of families feel more comfortable if you have a track record," he said. "You're asking a lot of a family to trust you." A lottery will be held if demand exceeds capacity.
It's a partnership among Ann Arbor, Lincoln, Milan, Saline, Whitmore Lake, Willow Run and Ypsilanti school district and adds to a growing number of options for the county's high school students, from Washtenaw Technical Middle College on the campus of Washtenaw Community College to Ypsilanti New Tech @ Ardis to the Early College Alliance on the campus of Eastern Michigan University.
While it offers students looking for an academically rigorous curriculum a choice, it also has the potential to bring state funding back to local schools for students who had been attending private or charter schools, Okma said. While Washtenaw International is funded by the state foundation grant that follows each student, the day will come when the entire grant is not needed to run the program, and the partner districts will be able to recover some of it, he said. That should happen once the school is at peak enrollment. Also, any supplemental funds that follow the student, such as Title One federal funds for disadvantaged students, stays with the home district, Okma said.
While admission is not competitive, students must take an assessment test that determines needs, Okma said. And the school markets itself for college-bound students looking for an academic challenge and international education.
The promise of strong academics is what brought Seth Kronick, 14, to Wi Hi. "I looked at the classes for freshmen at Huron, and they didn't appeal to me," he said. "I also like that I'm learning a skill set that can be internationally applied."
Olajumoke Bolanle, 14, said he wasn't challenged at Lincoln Middle School. "It was easy for me to get good grades," he said. Born in Nigeria, Olajumoke attended school in Canada before his family moved to Washtenaw County. He said he liked the idea of an internationally diverse study body. "Here, you get to meet people from Saudi Arabia, Japan and England," he said.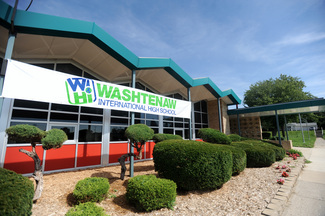 Angela J. Cesere | AnnArbor.com
While many students come for the academics, not all students are high achievers, Okma said. "We have students here who don't find academics easy. But we don't lower the bar." But there's help. Teachers are required to be in the classrooms for an hour after school and there are after-school study sessions for writing, math and Spanish. And there's a summer program — 60 percent of the school's incoming class was enrolled last summer, Okma said.
Megan, who was born in England but moved to Japan when she was 8 years old, attended the private Greenhills School for seventh and eighth grade. She was considering Huron and Skyline for high school when she heard about Wi Hi. There were disadvantages: She's will have to travel back to Huron to play sports, and she left most of her friends. And her family is responsible for transportation.
But she attended an IB school in Japan and knew that's what she wanted. "I've moved away from my friends a number if times. It now comes naturally to me," she said.
There's a common IB curriculum for 11th and 12th grades — with room for choices and flexibility, Okma said. The curriculum, he said, focuses on depth rather than breadth.
"Instead of just learning who Winston Churchill was, we may spend three weeks learning about his character, what made him unique and his role in preserving freedom in the world," Okma said.
But there are also philosophical goals. Most of the IB founders were World War II veterans and they wanted a program that would lead to appreciating other nations and other cultures, Okma said.
"They wanted it to lead to a better understanding across the world."