Posted on
Wed, Apr 24, 2013 : 5:58 a.m.
West Michigan Avenue to see 'road diet' with 3 lanes, bike lanes
By Tom Perkins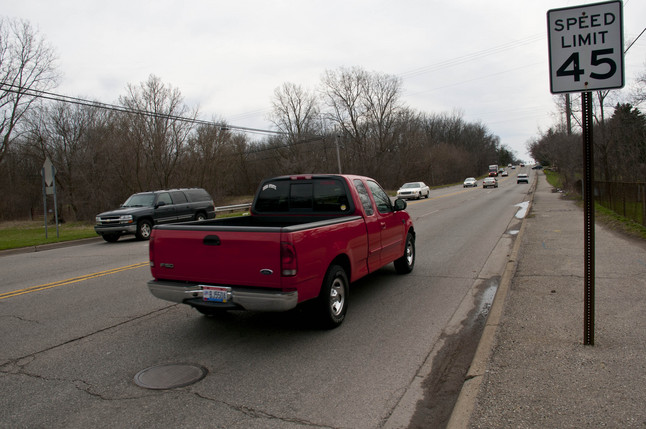 Tom Perkins | For AnnArbor.com
West Michigan Avenue will be trimmed from four lanes to three between Ypsilanti Township's border with the city of Ypsilanti and Hewitt Road.
Instead of two lanes of travel in either east or west, the road will have one lane traveling in each direction and a dedicated left-hand-turn lane. Bike lanes also will be marked on both sides of the road.
Roy Townsend, director of the Washtenaw County Road Commission, said the change is designed to improve safety along the stretch, which has a high volume of traffic and high number of accidents.
It sees a traffic count of approximately 18,300 cars daily and 135 accidents were recorded there between 2006 and 2010.
The prevailing causes were rear-end and head-on collisions caused by cars turning left into driveways or side streets.
Townsend said providing a dedicated left-hand-turn lane will significantly cut down on the number of accidents
"Road diets increase safety and generally reduces crashes between 30 and 45 percent," he said. "The accidents are usually caused by cars trying to turn left into driveways, so the road diet gives someone a chance to be in a left turn lane."
Presently cars turn left from a lane that is also used for traffic traveling through at a regular speed.
Townsend said four-lane roads were commonly built in the late 1970s and 1980s, but are rarely constructed now because of safety issues. Roads are more frequently built with three or five lanes, as there is further west on Michigan Avenue.
Grove Road and Ford Boulevard in Ypsilanti Township also were recently given road diets from four to three lanes.
"The capacity and congestion in a three- or four-lane road is about the same," Townsend said. "You can move almost as much traffic with three lanes. There is congestion, backups, people weaving in and out of lanes when there are four lanes and someone is making a left.
"You're seeing more (road diets) statewide, too. Other communities are doing them and you end up with an extra 12 feet of road that you can turn into a bike lane."
The speed limit will remain 45 miles per hour along the road.
The $500,000 project is funded through a federal safety program and will be completed this summer.

View West Michigan Avenue road diet in a larger map The above map is the approximate stretch affected.
Tom Perkins is a freelance reporter. Reach the AnnArbor.com news desk at news@annarbor.com.