Kalitta Air grounds flights due to Hurricane Sandy; Willow Run Airport prepared for delays
Posted on Mon, Oct 29, 2012 : 6 p.m.
While most local air cargo companies are reporting no immediate effects due to Hurricane Sandy, the Willow Run Airport-based company Kalitta Air said it has grounded some flights as a precaution.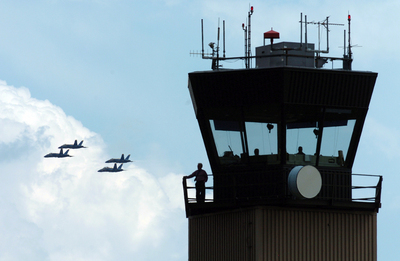 File photo | AnnArbor.com
Kalitta General Manager D.C. Sanderlin said some of the company's cargo flights along the East Coast into and out of New York's JFK International Airport and the Newark Liberty International Airport in New Jersey have been grounded.
"They don't want any traffic coming in," Sanderlin said. "It's only (being used) for emergency use. ... Hundreds of flights are canceled."
Sanderlin said it's unclear when the planes can be up and running again.
"That's anybody's weather guess," he said. "Right now, they're still forecasting that it comes ashore tonight or in the morning, so not until that passes."
Each plane Kalitta flies carries about 260,000 pounds of cargo, and Sanderlin said the company moves millions of pounds of cargo per year.
A Willow Run Airport official said a plan is in place to help accommodate planes if they become grounded or forced to divert due to the storm.
"This is a really well-predicted storm," said Michael Conway, director of Wayne County Airport Authority Communications . "They've taken a look at where they would park diversions... . In the event that did happen, we do have a contingency plan at Willow Run that would accommodate (parking) until the storm passes."
Conway said Willow Run, which is located in on the border of Wayne County's Van Buren Township and Ypsilanti Township in Washtenaw County, doesn't have any scheduled passenger flights, only cargo flights.
"The cargo operations are pretty savvy in avoiding inclement weather, and the schedule for cargo isn't as critical as passenger (flights,)" Conway said.
Willow Run Airport typically handles more than 200 million pounds of cargo annually, making it one of the nation's largest airports for freight flown exclusively by cargo aircraft.
The airport carriers transport a wide range of cargo, including automotive and electronic components, emergency medical supplies, mail and packages.
John Stokes, an employee at CP Delivery, which has air cargo services through Willow Run Airport. said the weather has not affected the company's schedule. Stokes said most of CP's cargo, which is mainly automotive related, is shipped from Mexico.
Representatives from Specialize Global Logistics Services, Active Aero and Flagship Private Air said their services have not been affected.
Forecasters said Hurricane Sandy would have an impact on Ann Arbor area weather. The National Weather Service has issued a wind advisory in effect from noon Monday through 5 p.m. Tuesday. Winds were expected to increase to 20 to 30 mph Monday afternoon with gusts of 40 to 50 mph expected, the weather service said.
See a map of Sandy's projected path below: