Posted on
Tue, Jun 26, 2012 : 3:35 p.m.
Willow Run amends deficit elimination plan to include closing Willow Run High School in 2013
By Danielle Arndt
The Willow Run Community Schools Board of Education recently approved an amended deficit elimination plan that would call for closing the high school, the Ypsilanti Courier reported.
Where high school students would be housed if the current building is shut down is not clear at this time. Per the deficit elimination plan, the high school would close its doors prior to the 2013-14 academic year.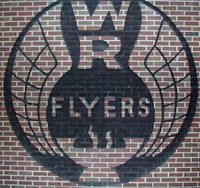 Courtesy photo
Willow Run must achieve a positive fund balance by June 30, 2014, to satisfy the state. The deficit elimination plan does not need to be followed precisely; however, the district must be capable of defending the plan, school officials previously explained.
The district has been steadily losing students, creating significant space in numerous buildings. In 2010-11, it experienced a population loss of nearly 42 percent, compared with student count data from 2009-10.
Closing the high school could save Willow Run approximately $1.4 million in instructional costs, the Courier reported.
Willow Run Community Schools is $1.7 million in the red, according to data released in May. The district is exploring consolidation with Ypsilanti Public Schools, with a possible merger proposal to appear on the Nov. 6 general election ballot for voters of the districts to decide. Ypsilanti has a current deficit of about $9.9 million.
Read the Ypsilanti Courier report here.
Staff reporter Danielle Arndt covers K-12 education for AnnArbor.com. Follow her on Twitter @DanielleArndt or email her at daniellearndt@annarbor.com.