Posted on
Fri, May 31, 2013 : 11:10 p.m.
'Once a Flyer, always a Flyer': Willow Run High reflects on history at bittersweet final graduation
By Chelsea Hoedl
For many, Willow Run High School's commencement ceremony Friday evening was bittersweet. Emotions ran high as the school's last graduating class walked across the stage.
Due to the Ypsilanti-Willow Run school district merger set to launch July 1, resulting in the creation of a new district (Ypsilanti Community Schools), Willow Run High School will be used as a middle school next year.
While speakers focused on the accomplishments made by students and the journey they are about to embark on, each also had something to say about the long history of the school and the legacy it will leave behind.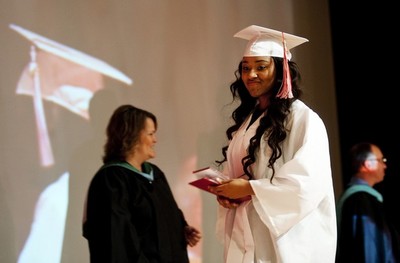 Daniel Brenner | AnnArbor.com
"Willow Run is not just the story of a school district or a bomber plant,"
David Bates
, president of the Willow Run Board of Education, said. "It's a spirit that permeates this community. You bring to a close a very important and exciting chapter in the community's history."
Superintendent of Willow Run Community Schools Laura Lisiscki encouraged the class of 2013 to represent Willow Run as the last group to walk its halls.
"Know that you are part of the legacy of Willow Run. We expect you to share the rich history and traditions that have been a part of Willow Run for the past 70 years," Lisiscki said.
The ceremony, held in the school's auditorium, celebrated the accomplishments of the school, the students and the community. Pride in the past and the future of Willow Run, speakers echoed the sentiment 'Once a Flyer, always a Flyer'.
Awards were presented to outstanding students. Quentin Carter received the principal's award and Dustin McCurdy was given the 'most distinguished student' award. The Van Gilder Scholarship of $2,500 was awarded to Darian Smith and Destiny Washington.
As family and friends cheered for graduating students, many felt a sense of sadness for the loss of a district rich with 70 years of history.
Paris Dodds, sister of graduating student Robert Montgomery, said that she is sad to see the school go. Dodds graduated from Willow Run High School in 2009.
"This is a happy day for my family, but still there is something sad about it," Dodds said. "I loved my time at Willow Run. It was a great experience and to think that I won't be able to come back and visit is sad. I can't even imagine the predicament that the teachers are in either."
Shonda Williams, mother of senior Yestiny Williams, said she is so proud of her daughter, but she's disappointed to lose a district that has brought such good things to the community.
"I've been in the Willow Run school district for 20 years now," Williams said. "It's sad that it's dissolving because there is so much history here."
Mother of four, Williams has a 13-year-old daughter who will attended the new Ypsilanti Community Schools district. Williams said she has mixed feelings about the transition, but she is confident that her daughter will receive a good education.
Vice President of the Willow Run Board of Education Don Garrett said change is inevitable. He was referring to the change students will face after graduation and the change the community will face as Willow Run merges with Ypsilanti school district.
Chelsea Hoedl is an intern reporter for AnnArbor.com. She can be reached at choedl@mlive.com.