Woman whose home burned for 2nd time: 'I don't know why someone wants to keep doing this to me'
Posted on Thu, Jul 19, 2012 : 5:59 a.m.
Melanie Maxwell I AnnArbor.com
Patricia Ware couldn't even bring herself to go back to her home on Jefferson Street in Ypsilanti until Wednesday.
The home, which burned for the second time in three years early Sunday morning, is now 75 percent destroyed, Ypsilanti Fire Department officials said. Ware moved out of the home several years ago to move in with her daughter, who has severe multiple sclerosis, and her granddaughter after spending 17 years at the residence.
The thought of the gutted home, blackened from flames, sitting idly on that Ypsilanti street brings her to tears.
"Frustrating is not the word," she said Wednesday, her voice cracking with emotion. "It's devastating. I'm hurt. I don't know why someone wants to keep doing this to me."
Ware said she lived at the home until it became apparent her daughter could not live there due to her disease. Ware got her daughter an apartment and eventually moved there to take care of her.
Fire crews were called to the home at 875 Jefferson St. at 12:15 a.m. Sunday to find the home engulfed in flames. Officials estimated the fire caused about $30,000 worth of damage to the home, and it was initially deemed suspicious. Fire Chief Jon Ichesco said there was no gas or electricity on at the home and there were no other natural igniters in the residence. Investigators have since said they cannot determine the cause of the fire.
On Wednesday, Ichesco said Ware had been working with the city to determine what to do with the home. The building had already been through two dangerous building hearings, and he said the next step was for the Ypsilanti City Council to determine what should happen to the home.
Teresa Gillotti, Ypsilanti's city planner, said the city had been in touch with Ware, who had asked for more time to try to sell the property.
"We gave her a little bit of time and were in follow up mode from that," she said.
Mayor Pro Tem Lois Richardson said she was not aware the house had burned Sunday morning and she wanted to check with city staffers about the incident before speaking to AnnArbor.com.
Firefighters spent about three hours at the home, knocking down the flames from outside the building because the interior was too dangerous to enter, Ichesco said. The previous fire, determined to be an arson, destabilized the floors and there was a risk to firefighters' safety if they entered.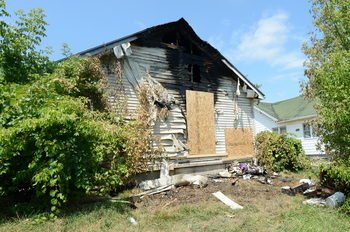 Melanie Maxwell
"We have a policy of not entering a dangerous building," he said. "There are holes in the floors and stairs, it's a good way to get hurt or killed."
Ichesco said many possessions were still inside the home, but Ware didn't know what she had lost in the fire. She hadn't been able to bring herself to go take a look at the damage until Wednesday afternoon.
After being at the home for a short period Wednesday, she told AnnArbor.com, "I just don't understand. I do everything for everybody. There's nothing I won't do for people." She declined to speak further before driving away.
She said it's been years since anyone lived in the home, and there were padlocks on the doors and boards over the windows. That didn't stop vandals from defacing the outside of the home and vagrants from entering.
"It's difficult to keep people away," she said. "There's locks on the front door, the back door is sealed in. They just keep coming in."
The home was about 50 percent destroyed in the previous fire about three years ago after a vehicle in the driveway was set on fire, Ware said. Ichesco confirmed that fire was ruled an arson.
He said the home has been on the department's radar because it was considered a dangerous building. Since 2003, the fire department has inventoried dangerous buildings in the city and gotten to know the buildings well in order to safely navigate them if a fire were to occur.
The home showed no obvious signs of arson after the latest fire, Ichesco said. The doors were still locked, the windows were still boarded up and there wasn't any evidence found on the scene. He's ruled the cause of the fire undetermined.
At this point, it would be cheaper to simply build a new house on the property instead of trying to repair what's left, he said.
"If you were going to rebuild, it's cheaper to knock it down and rebuild on the foundation," he said.
However, it's something that Ware might not be ready to think about yet.
"I don't know what else to say," she said through tears. "I'm just hurt."