Posted on
Sat, May 25, 2013 : 5:58 a.m.
$1.2 million upgrade to Ypsilanti Township's Lakeside Park aims to make Ford Lake a rowing hub
By Tom Perkins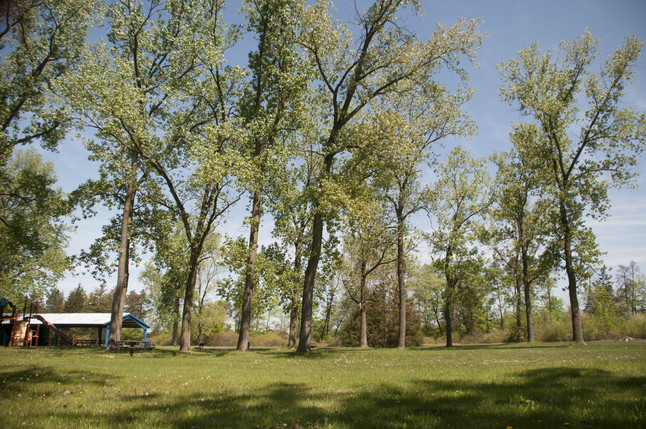 Tom Perkins | For AnnArbor.com
A $1.25 million upgrade of Ypsilanti Township's Lakeside Park and area around Ford Lake could be completed late this summer.
Among the improvements are a boathouse that will house the Eastern Michigan University and Saline High School rowing teams; an extension of the trail network that will connect it to regional trails; a new pavilion; fishing docks and lookouts over Ford Lake.
The project is a partnership between EMU, Saline High School, Ypsilanti Township, the State of Michigan and Washtenaw County and is an effort to pull thousands of more visitors to the area annually.
The improvements will be funded with a $500,000 grant from the Michigan State Department of Natural Resources Trust Fund, $450,000 from EMU, $250,000 from the Washtenaw County Parks and Recreation Commission and $50,0000 raised by the Saline rowing team.
"This is a win-win situation for all properties involved and a big enhancement for the larger community," said Art Serafinski, director of the Ypsilanti Township Recreation Department.
He said he is hopeful to make final tweaks to the plans in the coming days and have construction completed by Aug. 31.
The centerpiece of the project is a $320,000 boathouse that could attract thousands of visitors to the area annually. The idea to build one at Lakeside was floated in 2001 by the EMU women's crew team, but took years to germinate and pull together all the funding with multiple partners, said Brad Holdren, EMU's rowing coach.
The 5,600-square-foot boathouse will include public bathrooms, a meeting area and space to store Saline and EMU's shells.
Holdren said rowing has spiked in popularity in recent years.
"If you were to research around the country, anywhere where a boathouse is built it gets filled to capacity in a number of years and people have to start talking expansion," he said.
Locally, EMU, the University of Michigan, Concordia College, Ann Arbor Pioneer, Ann Arbor Huron, Saline and Northville all have rowing teams. When a recent rowing tournament in Indianapolis was canceled due to flooding, Holdren said the EMU and U-M teams were able to organize the event last minute on Ford Lake.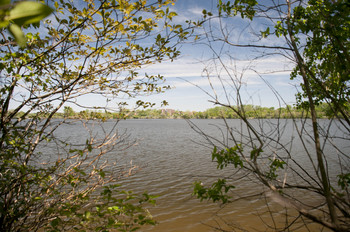 Tom Perkins | For AnnArbor.com
"Ford Lake is a fantastic training lake," he said. "The size is nice, it has good depth, not a lot of debris and not an overwhelming amount of power boats. The flatter the water, the better."
Holdren said he envisions the lake hosting five to six races annually that could draw between 2,000 and 10,000 visitors per event.
"We would be filing up local restaurants and hotels," he said.
Aside from serving as a home base for the crew squads, the boathouse will be utilized for public rowing lessons, training and the development of an area club team. Holdren said rowing lessons would be available for all skill sets and ages, and it would be run by EMU rowing members through the Ypsilanti Parks and Recreation Department.
In addition to the boathouse, asphalt trails will be constructed between South Grove Road near Interstate 94 and Rawsonville Road. There will also be more trails installed in the 21-acre Lakeside Park with an overlook in the northeast corner on Ford Lake.
They will serve as arteries off the Border to Border Trail once it's completed in Ypsilanti Township.
Plans call for fishing docks and a new 900-square-foot pavilion with tables and grills that can be rented or used for other activities.
Tom Perkins is a freelance reporter. Contact the AnnArbor.com news desk at news@annarbor.com.