Posted on
Mon, Oct 11, 2010 : 7:55 a.m.
Spirits soar as Yankee Air Museum celebrates grand reopening six years after devastating fire
By Tom Perkins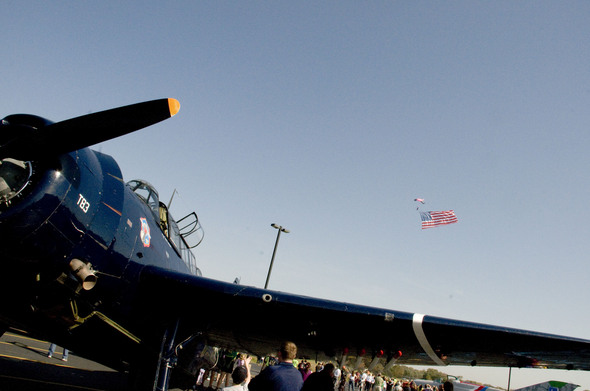 Tom Perkins | For AnnArbor.com
Korean War veteran Lee Bassett remembers well how he felt six years ago, after a fast-burning fire destroyed the Yankee Air Museum at Willow Run Airport in Ypsilanti Township.
"With all the time I spent in the military and all the time I've spent working here, I was upset," Bassett, a 27-year member of the museum, said Sunday at the museum's grand reopening. "It took a year and a half to get over it, so it's great to be back. It took a lot of time, but we never faltered."
Bassett's brother-in-law, Alex Kropog, celebrated with him Sunday. "It broke his heart when the museum burned, so to see this all come together like this is exciting. There are a lot of people like Lee who spent a lot of time working on this."
Veterans, museum members, their families and thousands of people gathered for two days of events Saturday and Sunday to celebrate the museum's rebirth. On Sunday afternoon, the mood was festive and proud at the Yankee Salute to Aviation.
The salute took place inside and outside of the newly renovated, 32,000-square-foot Collections and Exhibit hangar at the east end of Willow Run Airport. Museum officials said this is the first significant step in a large rebuilding effort. Executive Director Randy Hotton, said the Yankee Air Museum is trying to establish itself as a relevant museum in the community.
Besides the planes, guns, tanks, military vehicles and helicopters everyone loves, the museum also features display walls and a movie theater that tell the story of the Willow Run Bomber Plant's role in World War II.
Hotton expected 10,000 visitors on Sunday, and six years to the minute from the night the fire started, the Yankee Air Museum's members were enjoying the Inaugural Ball on Saturday night.
"Nobody went away disappointed," Hotton said. The same went for those attending Sunday's Salute, he said. Guests were treated to a dive by Misty Blues All Women Skydiving Team, a World War II battle re-enactment, a Screamin' Rebels T-6 flying formation, a Soviet Mig 17, helicopter rides and more.
Hotton said the weekend went perfectly.
"I feel like it's Christmas morning and all the presents have been opened," he said.
Bob Schrock, a Korean War veteran, shared Hotton's excitement over the new facility.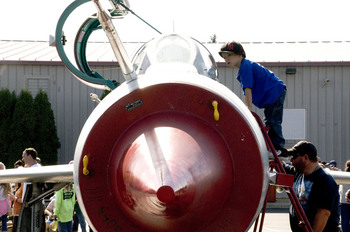 Tom Perkins | For AnnArbor.com
"It's great to see all these guys out here - you can't believe how much work went into it," said Schrock, a member of the Yankee Air Force who helped with the rebuilding effort. "This is going to be a whole lot better than the old one, it's just too bad we lost what we did."
The museum lost an estimated $4 million worth of artifacts in the fire.
Dennis Copenhaver's father used to work on the line at the Willow Run plant during World War II, and he came to check out the new setup. While going through the museum, he discovered a surprise - a picture of his father working on a radial engine for the B-24 bombers.
"I think they've done a real nice job here," he said. "I'm sorry to hear about their loss, but it's a nice exhibit and a nice display."
World War II veteran Dick Sprague works on the museum's Mitchell B-25 bomber, which is parked at a hangar in Grosse Ille. He is anxious to get the bomber back home to Willow Run. In the plans for further expansion is a new, larger hangar to shelter and house the museum's flyable planes.
"We're getting there," Sprague said.
Donald Hedge, also a member of the Yankee Air Force , said the museum is "part of the collective memory of the area", and he wants to see the museum expand to include some of the WWII-era buildings at the Willow Run Airport.
Ron Ferschman drove out from Sterling Heights to enjoy the afternoon and show his support.
"They came a long way," he said while surveying the facilities.
Hotton said the next step is getting the new hangar up. The community's support and response over the weekend have filled him with confidence.
"We're letting people know what we're doing here and we're going to be a success," he said.