Posted on
Tue, Feb 5, 2013 : 11:07 a.m.
Construction work to cause partial closure of Huron Street and Michigan Avenue in Ypsilanti
By Katrease Stafford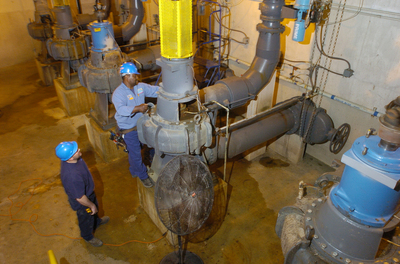 File photo
Construction work to repair a sanitary sewer line will partially block one of the busiest intersections in downtown Ypsilanti Thursday.
The work will repair a leaking sewer line in a manhole at Michigan Avenue and Huron Street.
Ypsilanti Community Utilities Authority Engineering manager Scott D. Westover said the construction will shut down an eastbound lane of Michigan Avenue starting West of Huron Steet and the northbound lane of Huron Street through the intersection.
Westover said the closure will take most of the day, but YCUA will try to limit the work between 9 a.m. and 3 p.m.
"We're going to do what we can to limit it ... ," Westover said. "It depends on how quickly we can get started. ... It could make traffic in that area a little unpleasant."
YCUA will be making improvements to the wastewater collection system. The improvements will be done without removing pavement or excavation. Up to 10 workers will be on site, Westover said.
"We've got a sanitary sewer pipe that at some point in the past, the top of the sanitary sewer pipe was removed and looks like it was done intentionally," Westover said.
YCUA will replace the top of the pipe, Westover said. The project is the last in a series of improvements to the system to eliminate discharges of sewage that periodically occurred from the manhole into the storm water sewer.
Westover said sewage flowed from the storm water sewer under Michigan Avenue from Huron Street to the Huron River. This occurred periodically over the past year, but during the past four to six months, YCUA made a series of improvements to stop the leakage.
Westover didn't have an exact estimate available regarding the amount of sewage that was discharged from the manhole, but said "it wasn't much."
"There was sewage that was occasionally getting into the river," Westover said. "We have eliminated that. This is the last piece to seal up the pipe."
Katrease Stafford covers Ypsilanti for AnnArbor.com.Reach her at katreasestafford@annarbor.com or 734-623-2548 and follow her on twitter.