Posted on
Sun, Dec 2, 2012 : 1:18 p.m.
16th annual Ypsilanti holiday home tour to benefit Meals on Wheels
By Katrease Stafford
The Ypsilanti Meals on Wheels is hosting the 16th annual holiday home tour, featuring five historic and eclectic homes as one of the organization's signature fundraising events.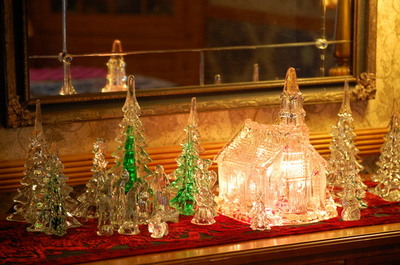 Janet Miller | For AnnArbor.com
"It's been going on for quite awhile," said Meals on Wheels Executive Director Ann Harris. "We really enjoy it. We get to premiere some beautiful venues in Ypsilanti."
While the event allows homeowners to showcase their properties, it also benefits Meals on Wheels.
On a typical day, the organization services between 190 and 200 people and the need for assistance continues to grow. Each year Meals on Wheels delivers more than 75,000 meals. Harris said Meals on Wheels provides the individuals with their primary nutrition.
"It's really sad," Harris said. "We have a waiting list of about 35 to 40 people waiting. Ninety-five percent live alone... To think we have that many people waiting breaks our hearts."
Harris said the yearly event plays a tremendous role in terms of getting people off the waiting list.
"This particular event is one of our biggest fundraising events," she said. "It's critical."
The event was started by a business in Depot Town, Harris said, which did the event for a few years before turning it over.
"It became a bigger and bigger deal," Harris said. "We work on this all year long. They asked if we wanted to take this over and we always felt it was a terrific opportunity to do a fundraiser that was so fun and involved so many people in the community."
About 100 volunteers help out each year with the event. Harris said event organizers typically try to reach out to homeowners who they think may be a good fit.
"There was one couple that had a beautiful town home in addition to holiday stuff," Harris said. "The homeowner's mother had written to many of the old actors and actresses asking for an autograph signed to their son. All these actors and actresses responded and they had this wall of vintage pictures."
Over the years, a vast variety of homes have been featured, with colorful histories.
"It's very eclectic and it's so fun and the personality of the homeowners come out," Harris said. "I think its the best of all worlds because you have fun and help people in the community that need nutrition."
This year, Bob and Thelma Peper's mid-century home on University Court, which has had extensive custom remodeling, will be featured. Another home, the historic Glover House at 118 S. Washington St., also underwent remodeling and has a collection of silk Persian rugs.
Also included will be the 1922 Gothic Emmanuel Lutheran Church, and the home of Tom and Dottie Williams, adorned with five decorated trees and hand quilted wall hangings.
The event takes place Dec. 8 and 9. The 6-10 p.m. Saturday Candlelight Tour tickets are $40 and the noon-4:30 p.m. Sunday Home Tour tickets are $15 when pre-purchased.
Katrease Stafford covers Ypsilanti for AnnArbor.com.Reach her at katreasestafford@annarbor.com or 734-623-2548 and follow her on twitter.