Posted on
Thu, Mar 28, 2013 : 11:49 a.m.
Ypsilanti appoints new fire chief with $84K salary
By Katrease Stafford
The city of Ypsilanti has selected a new fire chief, who will be tasked with leading the department forward as it deals with mounting budget restraints.
Captain Max Anthouard, who was serving as the interim chief, has been appointed as the permanent chief and will be earning an $84,000 salary. Anthouard's appointment becomes effective April 1.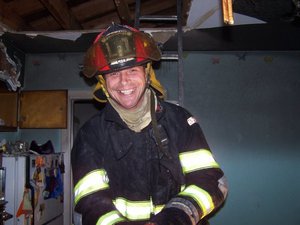 Courtesy Captain Max Anthouard
Anthouard replaces Jon Ichesco, who retired following 28 years of service within the department. Ichesco retired Dec. 31 and Anthouard was named interim chief Dec. 20.
Ichesco served as both fire chief and fire marshal. The city has yet to hire a fire marshal.
Anthouard has more than 37 years of fire experience, 19 of which were the Ypsilanti Fire Department. He began his career in Ypsilanti in 1994 as a firefighter and was promoted to lieutenant in 2001 and was promoted to captain in 2008.
Prior to coming to Ypsilanti, Anthouard worked for 15 years in Paris, France as a firefighter.
In a statement, Anthouard noted the fire department is facing difficult challenges ahead.
"These challenges open doors to opportunities that I will use to deliver the best possible fire protection and EMS service to the citizens of this community," Anthouard said. "Council member (Pete) Murdock once told me, 'Do what is best for the citizens with the resources you have,' and I plan to do exactly that."
In January, it was announced the city was looking into creating a hybrid public safety department to help cut costs and maintain service levels.
City Manager Ralph Lange said it's "premature" to discuss Anthouard's role in the creation of the department that possibly would cross-train police officers to do firefighter duties.
Earlier this year, the city applied to receive $943,480 through the Competitive Grant Assistance Program from the state of Michigan for the creation of a hybrid department.
"The city of Ypsilanti still has a stand-alone police department and fire department," Lange said. "Chief Anthouard has been promoted to fire chief based on his excellent credentials and service to the city. At this point in time, any discussions on his role in the city creating a public safety department are premature."
Katrease Stafford covers Ypsilanti for AnnArbor.com.Reach her at katreasestafford@annarbor.com or 734-623-2548 and follow her on twitter.