Posted on
Wed, Jul 17, 2013 : 5:59 a.m.
Ypsilanti City Council approves cap on medical marijuana facilities
By Tom Perkins
The City of Ypsilanti will limit the number of medical marijuana dispensaries and grow facilities allowed to operate in the city.
At its Tuesday night meeting, the Ypsilanti City Council approved the first reading of an ordinance capping the number of facilities at nine
That leaves space for two more grow operations and one more dispensary, and three facilities already have their paperwork in with the city.
Ypsilanti currently has one dispensary in Ward 1; one dispensary in Ward 2; and three dispensaries and in Ward 3. Two grow facilities have been proposed for Ward 1 and another in Ward 3.
Mayor Paul Schreiber, Council Member Ricky Jefferson, Council Member Dan Vogt and Council Member Pete Murdock voted in favor of the cap. Council member Brian Robb voted against it.
Mayor Pro Tem Lois Richardson and Council Member Susan Moeller were absent.
"Eighty-three-percent voted for medical marijuana - that's in the neighborhood I live in," said Ward 1 representative Jefferson. "But now they're saying 'We've had enough.' They didn't vote on dispensaries and it's still in the air with the state."
Ward 1 representatives Jefferson and Richardson proposed the legislation after they said they heard complaints from residents about the number of dispensaries and grow operations, especially in Ward 1 on Ypsilanti's south side.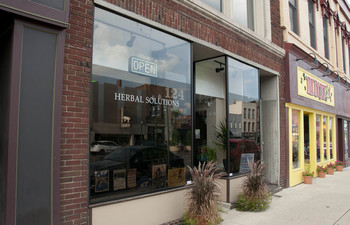 Tom Perkins | For AnnArbor.com
The Michigan Medical Marijuana Act passed overwhelmingly in Ypsilanti. In the 2008 vote on whether or not to legalize medical marijuana, Ward 1 voted 1,672 to 359 in favor of it. Ward 2 voted 2,278 to 577 in favor, and Ward 3 voted 1,833 to 441 in favor.
But the act doesn't include any language on the legality of dispensaries and grow operations, which has been a point of contention between supporters and opponents.
The new ordinance comes after an emergency moratorium failed by a 3-3 vote in early June. That would have immediately prohibited any new medical marijuana facilities from opening, including those that have begun the process of opening.
Schreiber and Vogt opposed the emergency moratorium, and Murdock abstained from that vote, but all supported the new ordinance.
Vogt, however, supported the ban after saying that the volume of medical marijuana bought or consumed will not be impacted by a limit on facilities. Because of its zoning laws, the city previously could have had a maximum of nine dispensaries and five grow operations.
Vogt called that a small difference and contended that people who want medical marijuana can simply go to the dispensaries and grow operations already open.
"I don't see it as either helpful or particularly harmful to change (the ordinance) either way," Vogt said. "I think it has no effect when you think about it in purely logical and objective terms … all of this has been much ado about nothing, logically speaking."
Schreiber said he preferred a a solid cap not determined by zoning.
"Alcohol has license limits and I don't see why we should not have them for medical marijuana," he said. "I think it's good that we know how many licenses are available instead of relying on zoning where medical marijuana is located."
Prior to Tuesday night's vote, Murdock said he didn't feel strongly one way or the other on the issue. He passed on the moratorium vote to wait and see how other council members voted and ultimately supported the ordinance.
Robb, the lone "no" vote, said the ordinance amounted to prohibition and an attempt to stop a grow operation trying to open in Ward 1 on South Huron Street.
"This is the wrong tool to accomplish what people seem to want to accomplish," he said.
During a public hearing, Ypsilanti Planning Commission member Mark Bullard contended that the act was overwhelmingly approved and he felt that the city hadn't given dispensaries enough time to prove whether they're an asset or a problem.
"The vote was clearly in favor of medical marijuana, and from my experience to date with those doing business in the city, it would seem that they would be doing it in a thoughtful way," he said
Third Coast dispensary owner Jamie Lowell noted that the city's dispensaries have operated without incident and argued market demand and current zoning laws already act as a cap.
He said the' argument that a high number people seen entering and leaving the city's dispensaries indicates saturation is not valid.
"If anything it speaks to the need for more dispensaries, not saturation," he said.
Several residents gave impassioned pleas for council to pass the ordinance and characterized the dispensaries as "drug houses" and their operators as "drug dealers".
Ypsilanti resident Brian Foley said medical marijuana continues to impact his neighborhood.
"When you put "medicinal" in front of marijuana, there's no difference than street marijuana whatsoever," Foley said.
Jefferson underscored that his constituents see the dispensaries as a problem.
"What happens in our community defies all logic," he said, responding to Vogt's comment that the ordinance would have no impact, logically speaking. "Being a part of my neighborhood for over 54 years, it doesn't matter whether it's legal drugs or drug solicited in the streets, it finds a way to be sold in the street and it finds a way to get into families' homes and destroy homes."
Tom Perkins is a freelance reporter for AnnArbor.com. Contact the news desk at news@annarbor.com or 734-623-2530.