Posted on
Wed, Sep 4, 2013 : 3:06 p.m.
Ypsilanti approves first reading of street light fee ordinance
By Tom Perkins
The Ypsilanti City Council has approved the first reading of an ordinance that will require property owners to cover the cost of switching the city's street lights to LED lighting.
Property owners would pay $58 per parcel each of the next two fiscal years, which would cover the cost of converting around 1,189 streetlights from mercury vapor to LED. That breaks down to under $5 a month, though the fee would be assessed once annually.
The switch is expected to save the city around $115,000 annually by reducing the cost of running street lights from $515,000 to $400,000.
At its Sept. 3 meeting, council approved the ordinance by a 6-0 vote. Council Member Ricky Jefferson was absent. Council will vote on a second reading at its next meeting, and City Manager Ralph Lange stressed the urgency to get the language approved if the city wants to remain on schedule to have the levy on the winter tax bill.
"It's a good program, saves a lot of carbon and it's efficient," Lange said.
The proposal has costs for conversion to LED divided equally and assessed among 4,812 of the city's 4,951 parcels. Eastern Michigan University is exempt because of legal precedence that says universities aren't subject to special assessment districts, and the city's properties are also exempt.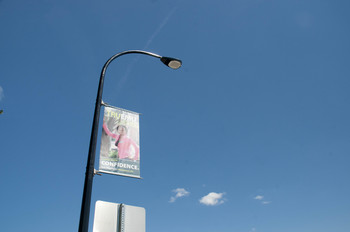 Tom Perkins | For AnnArbor.com
Under the previous proposal, a parcel owner would have paid an estimated $98 in fiscal year 2014 and $92 in fiscal year 2015. That figure would have dropped to $84 through fiscal year 2020 and $67.51 through fiscal year 2031. However, that plan was scrapped after strong opposition from residents.
Ypsilanti Mayor Paul Schreiber highlighted that the switch to LED will save the city around $100,000 annually in its general fund, half of which goes to police and fire. The city is struggling to balance its budget saw revenues of around $500,000 less than its expenditures this year.
"We have to keep working at this bite by bite," Schreiber said. "I think Ypsilanti is going to continue to do that. We're still deficit spending so we have to keep working."
During a public hearing on the ordinance, Ypsilanti resident Ernest Terry said he didn't believe the new lights would improve his property value as he said it's supposed to under Michigan law.
"We respect council moving in this direction, but we don't believe in calling this an assessment. Changing the light bulb doesn't improve my property value," he said. "Much has been said about that it improves the general fund. Unfortunately assessments aren't allowed for improving the general fund."
EMU professor Bill Welsh told Council that he owns a single-family house on a double lot and doesn't believe he should have to pay a fee for both parcels.
"I fully support the city moving to better street lighting," he said. "The thing I don't like is that I happen to live on a double lot. I don't mind paying this assessment … no problem, what I do resent is you charging me twice. I would like you guys to only charge me for my single-family residence."
City Attorney John Barr responded and noted that he also lived in a single-family home on a double lot.
"We decided that we were going to levy the assessment on each parcel instead of by housing," Barr said. "A double parcel has a taxable value for both parcels, and the taxable value is tied to the light. If you have a double parcel, then you pay more taxes. That's the way it works."
Council Member Brian Robb questioned whether residents can opt out of the fee.
If property owners representing more than 50 percent of the expected cost of the assessment filed objections at the meeting, the project couldn't have proceeded without the affirmative vote of four-fifths of all of the council members.
But Barr said that residents who did file an objection with Council on or before Sept. 3 could appeal the assessment to the Michigan Tax Tribunal.
Robb said he was disappointed only four residents showed up to file objections and the fee was so low that most residents don't seem outraged over what the city is doing.
"The unfortunate thing is that no one will take the effort to sue us, so whether or not it's right we're going to get away with it," he said.
Tom Perkins is a freelance reporter. Contact the AnnArbor.com news desk at news@annarbor.com.