Ypsilanti approves Ypsilanti Housing Commission recovery plan, says future is uncertain
Posted on Wed, Oct 17, 2012 : 8:34 a.m.
Ypsilanti officials narrowly approved a recovery plan Tuesday that the U.S. Department of Housing and Urban Development says will revive the troubled Ypsilanti Housing Commission.
Despite the approval, council members continue to express concern about the future of the YHC.
With four yes votes and three no votes, city council approved the plan that has been in the works for several months. Council Members Mike Bodary, Pete Murdock and Brian Robb voted against the plan.
Jeffrey Smith | AnnArbor.com
The recovery plan outlines several changes HUD believes need to be made in order for the program to remain sustainable as well as in control of the YHC.The plan identifies the "available remedies" to correct the commission's issues.
"This is an effort to move the agency collectively forward," said HUD Director of the Office of Public Housing Willie Garrett.
Bodary voted against the plan and said he still has concerns regarding whether the plan will actually be implemented. Council members were disappointed to find that the four amendments they sought to be included in the final draft were left out.
Council sought the following amendments:
That all reports and communications referenced in or pertaining to the agreement and recovery plan by HUD or the Ypsilanti Housing Commission be simultaneously sent to the Ypsilanti City Clerk for distribution to City Council.
All evaluations be sent to council.
HUD, the Ypsilanti Housing Commission and the City of Ypsilanti will explore with Washtenaw County, the City of Ann Arbor and others the feasibility of a regional housing entity.
Submission of a chronology timeline of the Section 8 financials from 2007 to present.
Garrett said the amendments were not placed in the plan because they did not "flow with it."
"I really don't understand why they're even bringing it to us," Bodary said. "They're going to proceed with the recovery plan and it's an empty rubbery stamp. It just makes people think city council has some say in this when we were kept in the dark."
Bodary repeatedly asked Garrett why more oversight was not provided to the YHC, which he says, would have prevented the $228,407 budget shortfall.
According to a recent audit conducted by Casterline Associates, P.C., the YHC August 2012 bank statement shows the commission currently has $444,510.59 in cash, before a bank reconciliation, leaving a shortfall of $201,991.41.
"I can't imagine how it got to the point where there was no practice to oversee the accounting standards," Bodary said. "I understand you're attempting to correct the future, but I'm still dwelling on the past. There are a lot of questions still out there that we're not seeing answers to."
Garrett said he doesn't yet have the answers to those questions, as HUD is still investigating.
"I can't explain," said Garrett. "I can only explain when I came into HUD(two years ago). Those are the very same questions that I'm looking at as a direction. When it comes to Ypsilanti, in this process we're waiting for this collaborative effort and the action plan is going to allow the agency to recover."
Mayor Pro Tem Lois Richardson said HUD itself has yet to deliver on previous discussions that have taken place. Richardson said the city met with HUD officials in January and a number of changes were discussed, none of which have occurred yet.
"What concerns me about that is I think some of those things might have avoided where we are now," Richardson said.
Richardson said HUD officials previously expressed to her that they wanted to remove two housing commission members and prevent current Interim Director Eric Temple from being designated as the director.
"You insisted on changes," she said. "We don't want to see things keep being perpetuated. This housing situation is detrimental to the whole city. You've given us an action plan, but is it really going to be followed?"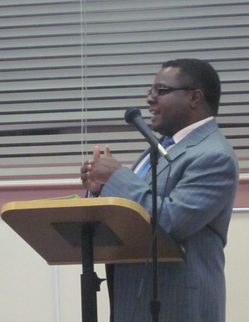 Katrease Stafford | AnnArbor.com
Garrett said HUD does have issues with former executive director Walter Norris and Temple, however, he believes Temple will move the agency forward while the search is under way for a permanent director. The application deadline in the national search is Nov. 15.
Garrett said HUD will not choose the director, instead the board of commissioners will. He is not aware at this point if any applications have been received since the job's initial posting this past Friday.
"Will he be the one (chosen)?" Garrett said. "He may or may not... I'm not here to discuss personnel issues."
Murdock said the city and HUD should instead be focusing efforts on a regional authority.
"I don't see why we should adopt an agreement," Murdock said. "This council has gone on record saying we need some changes in the board."
Murdock said the current model of the commission must not be working and the YHC has been an issue, according to him, for the past four mayors.
"That's where things are going to be going--regional," he said. "We need to get on the ball. That's why I think we should be looking outside the box."
Garrett told AnnArbor.com that while the city is free to discuss the possibility of a regional authority, that isn't his focus right now.
"We know that the recovery agreement works and if it does not work we will consider repositioning the agency," It would have to come through HUD but right now my focus is moving this agency forward. My ultimate goal is that we afford an opportunity to safe, sanitary housing."