Posted on
Wed, Jan 23, 2013 : 11:56 a.m.
Ypsilanti master plan, zoning ordinance update to target land use, transportation and sustainability
By Katrease Stafford
The city of Ypsilanti has started its master plan revision process, "Shape Ypsilanti," to create guiding values for land use, housing, transportation, equity and sustainability.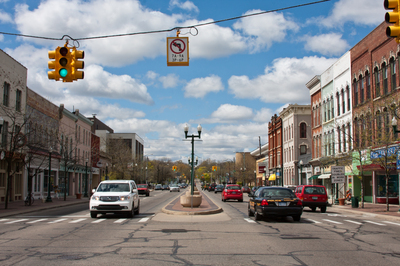 AnnArbor.com file photo
The master plan is an official document that oulines long-range goals for the city, as well as policies for reaching those goals.
The plan serves as the basis for the zoning ordinance, and guides the planning commission and other entities. The current master plan was created in 1998 and several minor revisions have been made since that time.
Shape Ypsilanti is a community-driven process that will involve various members of the community as well as officials, by using multi-day, interactive workshops. The process started in January and will take 18 months to complete. Most of the work will be done at three community events that will take place this year.
The master plan will address some of following elements:
Accessibility
Conservation and celebration of natural resources
Commitment to provision of transportation options
Availability of quality housing of various types dispersed throughout the city;
Integration of transit-oriented development principles into area plans for Depot Town and Washtenaw Avenue Corridor
A housing typology study to explore options to integrate affordable housing throughout the community.
Specific conservation and access recommendations for Huron River.
Officials have said the ideal master plan will create an opportunity to make a hybrid policy and land-use plan. In a request for proposals sent out to planning consulting firms, the city said it is important that the master plan be "grounded in real challenges" and opportunities facing the city.
The city also is seeking to create more businesses where potentially low-skilled individuals can earn higher incomes to help provide opportunity to existing residents for employment and creation of wealth. The city has selected ENP & Associates as a consultant for the city.
The zoning ordinance revisions will focus on flexibility within business districts for a variety of uses, consideration of living and work spaces, creative consideration and location for small-scale and large-scale production in older industrial areas and adaptive reuse of existing building stock.
The city will also focus on dense downtown areas and address ways to make sure the first floor uses of buildings along Michigan Avenue and Cross Street are active.
On Jan. 16, the planning commission appointed the Shape Ypsilanti steering committee, which will be responsible for overseeing the planning department staff and consultants as the new master plan and zoning ordinance is developed. The first meeting is Wednesday, Jan. 23 at 6 p.m. at SPARK East, 215 W. Michigan Ave.
Katrease Stafford covers Ypsilanti for AnnArbor.com.Reach her at katreasestafford@annarbor.com or 734-623-2548 and follow her on twitter.