Posted on
Tue, Nov 27, 2012 : 5:57 a.m.
Ypsilanti Border to Border trail project may receive $300K in additional state funding
By Katrease Stafford
The proposed Border to Border Trail project that will run through the Water Street property in Ypsilanti received some good news from Michigan's Department of Natural Resources Friday.
The DNR published the standings for proposed 2013 projects funded by its Trust Fund grants and the Water Street area Border To Border Trail project came in at 22 out of 102 projects seeking funding, meaning the project is in a good spot to receive funding. The city requested $300,000.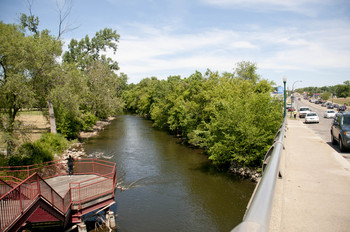 File photo
City Planner Teresa Gillotti said the city is feeling optimistic after receiving word from the state. For the 2011 round, 77 projects received development grant funding, worth more than $16 million.
The entire project is estimated to cost about $592,000, Gillotti said.
"We haven't been awarded it yet," Gillotti said. "But we scored pretty well and we're happy with it. Based on last year's round, it looks favorable, but you never know until the state gives the initial word."
The scores are based off of different factors and categories, with a maximum amount of points available in each category.
In 2011, the city applied for a Trust Fund grant to fund a separate part of the Border to Border Trail. The city received word earlier this year that the Ypsilanti Heritage Bridge Development project, which will include a pedestrian bridge over the river under Michigan Avenue and a fishing pier, received a $289,400 grant.
That portion of the project will see the bridge connect the Border To Border Trail from Riverside Park to Water Street near where the proposed $12 million recreation center could be built on Water Street.
Gillotti said the city is still working with Fischer Honda, at 15 East Michigan Ave., to develop an agreement to allow the trail to run through its property. The trail would go through the corner of its parking lot on the west side. Gillotti said Washtenaw County Parks and Recreation has taken on the part of the project reaching out Honda.
"That is under way," she said. "They've been great so far."
Ideally, the city is still looking at a 2013 target construction date, but Gillotti said it does not want to move forward until it knows whether it will receive funding.
"We'd like to construct both projects together because it would be smoother and cheaper to only have to mobilize a construction team once," Gillotti said. "We want to wait for approval from the state for the allocation. ... We don't want to take the process to the next step until we have the money in hand."
Linking Frog Island Park, Riverside Park, Water Street and Water Works Park continues to be a priority for the city, Gillotti said. The trail also will continue southward into Ypsilanti Township. Connecting to surrounding communities and counties, could be a possibility.
"All along with the Water Street redevelopment project, we wanted to set up and maintain public access to the river," Gillotti said. "... The next step is to connect it to Wayne County. ... To keep it going is further development of a great asset."
Katrease Stafford covers Ypsilanti for AnnArbor.com.Reach her at katreasestafford@annarbor.com or 734-623-2548 and follow her on twitter.